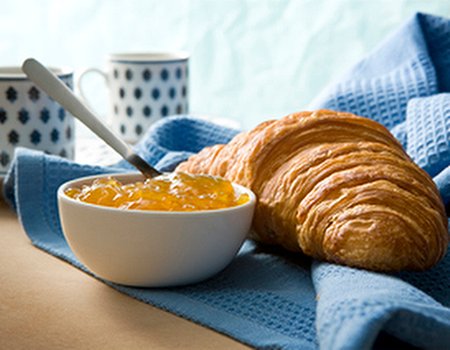 When was the last time you ate breakfast? We're all guilty of skipping this important meal sometimes, despite the fact it can have a negative effect on our bodies and daily routines. Skipping breakfast can slow down your metabolism and reduce the amount of fuel that goes to your brain, meaning that you have less energy and find it harder to concentrate on tasks. Research has also shown that, contrary to popular belief, skipping breakfast won't help you lose weight – in fact it could do the exact opposite.
We think it's high time we all started giving breakfast the respect it deserves, so we've come up with some healthy ideas to get you going in the mornings. Don't have the time to eat before you hop on the train? We've got plenty of tips on how to adapt our breakfast ideas to make them desk-friendly, so that you can be the envy of your ravenous colleagues.
Porridge
At home: There's a reason why Goldilocks was obsessed with finding the perfect bowl of porridge. Oats are a superfood that is high in protein, zinc, calcium, magnesium and iron – all nutrients that your body needs to function properly. Cooking up a pot of porridge in the morning could also help you concentrate better during the day, as oats release sugar into the blood slowly - keeping you going for longer.
In the office: Out the door in the morning before you've even had time to look at a saucepan? Luckily Marks & Spencer sells porridge in pots, meaning that all you have to do is boil a kettle and add some water. Alternatively, the Camden Food Co. offers ready to eat porridge served with a tasty fruit compote – great news for those three porridge deprived bears.
Poached egg on toast
At home: Eggs have all sorts of health benefits, from protecting the eyes to keeping the nervous system in good order and helping to ensure the body gets enough protein. Poached eggs on toast is a simple but delicious breakfast – use brown bread and add some wilted spinach for maximum nutrients.
In the office: Now you can enjoy poached eggs on toast at your desk with an ingenious microwave poaching device from Lakeland. The nifty egg poacher will cook your eggs in the time it takes for the toast to pop up – and it's easy to clean afterwards, too.
Muesli and yoghurt
At home: If you think that muesli tastes like rabbit food, you've obviously been eating the wrong kind. There are plenty of types of muesli out there that are packed with fruit and nuts for a real taste explosion . A bag of muesli and a large pot of natural yoghurt will sort out breakfast for a week – so this is a good option for those who are looking to watch the pennies a bit.
In the office: Why not try buying small individual pots of yoghurt to make munching on muesli a doddle at your desk. Don't want to wash up a bowl? Sprinkle some muesli directly on to your yoghurt for a tasty topping.
Smoothie
At home: Making your own smoothies can be a fun way to make sure you get lots of the nutrients your body needs, as well as helping you to stay energised all morning. The great thing about making smoothies at home is that you are in control – just whizz up all your favourite fruits with some low-fat yoghurt to thicken and hey presto, a healthy breakfast.
In the office: If you don't have time to make a smoothie on your way in to work, there's no shame in grabbing a ready-made one. Wahanda loves Innocent's pomegranate, blueberry and acai smoothie – a tasty health kick that contains two of your portions of 5-a-day. They may be innocent on the outside, but these smoothies are devilishly tasty...
Want to give your whole diet an overhaul and not just breakfast? Check out our nutritional treatments page to learn where you can get nutritional advice near you.