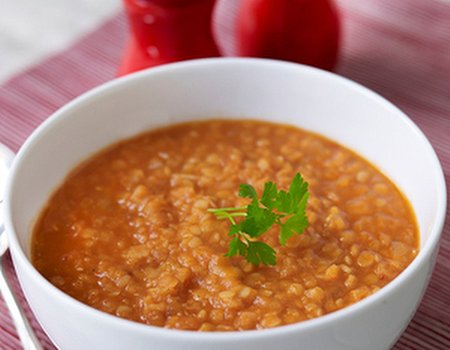 When the weather outside is cold and gloomy, there's nothing the Wahanda Tasters love more than a bowl of warming soup. So when the team at Canderel sent over this spicy recipe, we knew instantly what our new favourite meal was going to be…
A nourishing lunch as well as a delicious dinner, this soup can be made in a big batch and then frozen – making it a convenient way to eat healthily this winter. Containing only 225 calories per serving, it's also a great way to keep that waistline in check. Just as well, when there's so much party food around…
Spiced red lentil and tomato soup
Serves: 4
You will need:
1 tbsp olive oil
1 onion, roughly chopped
1-2 tsp dried chilli flakes
1 garlic clove, crushed
175g split red lentils, rinsed well
1 tsp tomato purée
1 tbsp granular Canderel
400g can chopped tomatoes or use passata
1.2 litres vegetable stock
Method:
1. Heat the oil in a pan, add onion and cook over a low heat for 3-4 minutes, until soft. Season with sea salt and freshly ground black pepper and stir through the chilli flakes.
2. Stir in the garlic and cook for a few seconds, then stir through the lentils so they are all coated. Add the tomato puree and Canderel and stir.
3. Now tip in the canned tomatoes and stock and bring to the boil. Then reduce to a simmer and cook gently for about 25-30 minutes, until the lentils are soft. If you need to top up with any more hot water, do so a little at a time. Taste and season again if needed. Blend if you wish, but there is no need. Ladle into bowls and serve with a garnish of fresh parsley.
What could be more comforting on a cold winter's night? Of course, if you want to really try out your cooking skills this December, there are plenty more low-calorie seasonal recipes available on www.canderel.co.uk, as well as on the Wahanda food blog. Bon appétit!