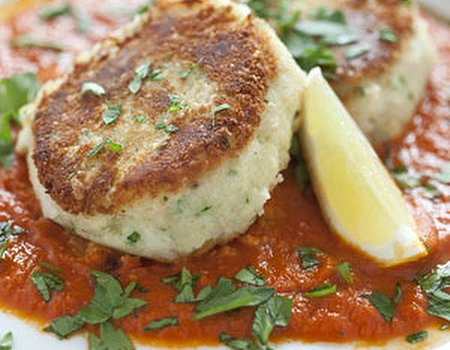 On Wednesday, we brought you a recipe for moreish gluten free bruschetta, as part of Food Intolerance Week. As we're going to be donning our aprons this weekend, we thought we might as well follow it up with another tasty idea from Genius Foods – fish cakes with spicy tomato sauce. Not only is this tempting dish entirely free from gluten, but it's bursting with healthy ingredients – from haddock and tomatoes to garlic and chill flakes. We can't wait to dig in...
Fancy making your own fish cakes? You can find more information about Genius bread and where to purchase it at www.geniusglutenfree.com. Enjoy!
Smoked haddock fish cakes with spicy tomato sauce
You will need:
400g/14oz peeled potatoes, diced
450g/1lb smoked haddock fillet, skin left on
570ml/1pint milk
1 bay leaf
2 slices of onion
Freshly ground black pepper
30g/1oz butter
1 egg beaten
½ tablespoon of freshly chopped parsley
140g/5oz Genius Gluten Free Bread, whizzed into breadcrumbs
4tbs of sunflower oil
For the spicy tomato sauce:
1 large onion, finely chopped
3tbs olive oil
Salt and freshly ground black pepper
1 garlic clove, peeled and finely chopped
1 tsp paprika
A pinch of chilli flakes
2x 400g cans of chopped tomatoes
1 bay leaf
1 large pinch of caster sugar
Method:
1. To make the sauce: Place the onion in a heavy bottomed pan with the olive oil and season with salt and pepper. Cover with a lid and fry gently over a low heat until soft and sweet.
2. Add the garlic, paprika and chilli flakes and fry for a further 30 seconds, stirring constantly.
3. Add the tomatoes and sugar and bring to a simmer. Simmer the sauce for 20 minutes. Liquidise until smooth. Pass the sauce through a sieve, back into the pan. Taste and add seasoning as necessary.
4. Simmer the potatoes in gently boiling water for 20 minutes or until tender.
5. Place the smoked haddock skin side down in a frying pan. Pour the milk over the fillets. If the fillets are exposed, add some more milk or water to cover. Add the bay leaf, sliced onion and 4 turns of freshly ground black pepper. Bring the milk slowly to a simmer and gently poach the fish for 10 minutes or until the fish is just cooked through. Reserve the poaching milk.
6. Mash the potatoes with 100ml/3 ½ oz of the poaching milk and butter.
7. Separate the flakes of haddock from the skin and mix with the mashed potatoes and egg. The consistency should be soft but firm enough to hold its shape. Add one or two tablespoons of poaching milk if the mixture is too stiff. Taste and add more seasoning as necessary.
8. Wet your hands to prevent the mixture sticking to them and shape the mixture into 8 round flat cakes no more than 2.5cm/1inch thick.
9. Coat the fish cakes with Genius breadcrumbs then brush off any loose crumbs.
10. Heat the oil in the frying pan over a moderate heat. When the oil is hot, place 4 fish cakes at a time into the pan and fry until golden brown on both sides. Remove from the the pan and keep warm in a low oven while the remaining cakes are fried.
11. Bring the tomato sauce back to the boil. Flood the base of four warmed plates with sauce and place two fish cakes, just off centre, on each plate.
For more advice on healthy eating, why not find a nutritionist in your local area – they'll be able to put you on the right path.