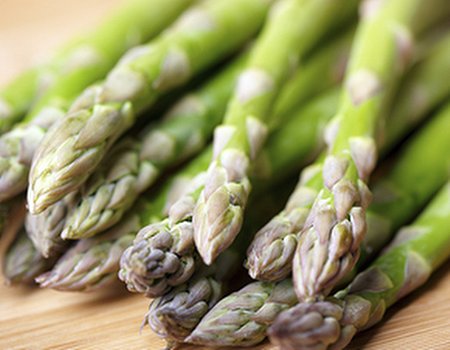 As we enter a new month, here at Wahanda we're seizing the opportunity to turn over a new leaf and start afresh with a brand new healthy eating plan – and it's not just because bikini season is on the horizon. Over the last few years the term 'superfood' has caused a bit of a stir in the worlds of health and beauty and had many of us reaching for broccoli and blueberries by the bucketload. To kick-start our new even healthier regime and get us looking and feeling our very best we've done some research into the seasonal superfoods that are themselves at their very best this month. Ladies and gentlemen, this June we will be mostly eating…asparagus.
Why it's so super
Despite a somewhat smelly side effect – you know what we're talking about – Asparagus is packed full of health boosting goodness like vitamin K. Not as well known as it's fellow vitamins A-E, vitamin K is important for improving bone-strength and promoting blood clotting. Asparagus is also full of antioxidants that help fight against free radicals, reducing the risk of health problems like heart disease, diabetes and even cancer.
Asparagus is particularly beneficial to pregnant women as it is high in folate, a B vitamin that is proven to reduce the risk of birth defects like Spina Bifida, as well as reducing the development of anaemia in children and adults and chronic disease in the elderly.
Grilled, blanched or steamed, asparagus is incredibly low calorie (containing roughly 27 calories per serving) making it the perfect accompaniment to a low fat diet. So how do you serve it? Here's one idea from the healthy minds at Flora…
Chicken breast stuffed with asparagus
You will need:
4 boneless chicken breasts, skin removed
4 tbsps Flora Cuisine or 60g Flora Buttery, melted
2 tbsps mustard powder
1 clove garlic, crushed
25ml (1fl oz) white wine
6–8 tbsps breadcrumbs mixed together with
2 tbsps grated Parmesan
12 small asparagus spears, blanched
Method:
Preheat the oven to 180°C, 160°C fan, gas mark 4
Place the chicken breasts in between two sheets of cling film and flatten out slightly with a rolling pin.
Mix the Flora, mustard powder, garlic and wine together in one bowl and the breadcrumbs and Parmesan in the other.
Dip each chicken breast first in the mustardy mixture, then in the breadcrumbs and to coat.
Divide the (already blanched) asparagus spears between the chicken breasts and roll up, securing each with cocktail sticks.
Place the stuffed chicken in a roasting pan and pop it in the oven or 25–30 minutes until thoroughly cooked.
Serve with a fellow super food like brown rice or a tomato-heavy salad, then grab your cape and get to work saving the world.
Check out www.flora.com for more healthy recipes.