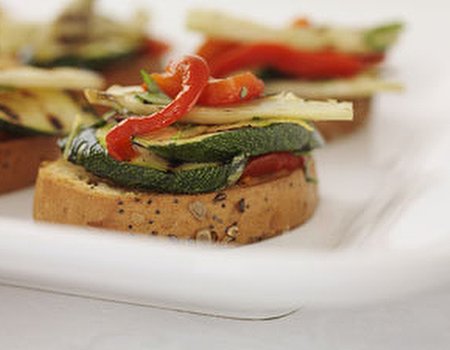 As we mentioned in Monday's blog on YorkTest, this week is Food Intolerance Week – and we couldn't think of a better way to celebrate than with a tasty recipe from our gluten free favourites, Genius (www.geniusglutenfree.com). Providing a wide range of breads, baked goods and frozen products, Genius is a dream come true for those who can't eat wheat – as Wahanda content writer and gluten free eater Angharad will happily attest.
If you thought that cutting gluten out meant a life spent eating food that resembled cardboard, think again. With great products such as those from Genius and delicious recipes like this one for bruschetta to try out, we see no reason why food intolerance should stop you having fun...
Roasted peppers, fennel & courgette bruschetta
When it comes to bruschetta, your imagination really is the limit. This tasty snack can be made with a wide variety of toppings, including grilled and fresh vegetables, cured meats, cheese and fruit. Serve with drinks as nutritious nibbles, as a starter or for a simple but delicious lunch.
Ingredients:
Genius White Bread, 4 slices
2 red peppers
1 courgette
1 fennel bulb
1 tablespoon of extra virgin olive oil
Freshly ground black pepper
1 tablespoon basil, finely shredded
1 clove of garlic
Method:
1. Simply cut sliced Genius white bread diagonally across into large triangles or cut out large rounds from each slice with a pastry cutter. Toast or bake the prepared bread on a baking tray at 200'C/400'F for 10 minutes or until golden brown.
2. Grill 2 red peppers on all sides until the skin is blackened. Place in a bowl, cover with cling film and leave to steam for 15 minutes.
3. Thinly slice a courgette and a fennel bulb lengthways. Place on a baking sheet, drizzle with olive oil, and season with sea salt and freshly ground black pepper. Bake in an oven preheated to 200'C/Gas Mark 6 for 20 minutes or until turning golden brown around the edges.
4. Remove the cling film and peel off the skin using a small, sharp knife. Core and deseed the skinned peppers and thinly slice.
5. Place the pepper slices into a bowl with the rest of the ingredients, season with freshly ground black pepper, stir in a tablespoon of finely shredded basil and heap onto freshly grilled Genius bread, rubbed with garlic and drizzled with olive oil.
Think that recipe sounded...well, genius? Read more about the benefits of a gluten free diet, or browse the archives of our food blog for more of our favourite recipes from Genius Foods.