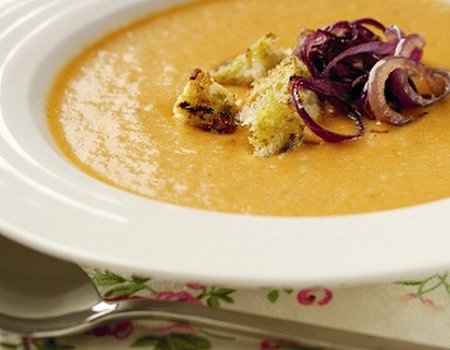 Wondering what to have for dinner? We've got another fantastic recipe from British Onions to share with you. As we mentioned at the beginning of our tagine recipe, onions are the unsung heroes of cooking. Often overlooked, these tasty vegetables can help to maintain energy and hormone levels, in addition to protecting the body against disease. We're on a mission to start including more of them in our diet...so if you see someone walking down the street with a string of onions round their neck, that's probably one of us.
Red onion and roast cherry tomato soup with pesto croutons
Serves: 4-6
You will need:
1.250kg/ 2lb 12oz cherry tomatoes
4 red British Onions, finely sliced
250ml/9floz vegetable stock
Sea salt & freshly ground black pepper
6 slices of ciabatta bread, torn into pieces
Method:
1. Preheat oven to 220C/375F/ Gas No 5. Put the cherry tomatoes, garlic, 2 onions and
basil onto a tray and drizzle with 2 tbsp oil. Sprinkle with sea salt and black pepper. Bake
for 30- 40 minutes until the tomatoes are browned.
2. Mix the pesto, 3 tbsp olive oil and bread together in a bowl, ensuring the bread is evenly
covered. Spread the croutons onto a baking tray and bake for 5 minutes in the oven with
the tomatoes. Turn the croutons and bake for a further 5 minutes. Put to one side.
3. Put the rest of the olive oil in a pan and gently fry the onions for 10- 15 minutes, add the
vinegar & sugar. Cook for a further minute.
4. Liquidize the roast tomato mixture. Add half the fried onion and stock. Reheat the soup &
check the seasoning.
5. Serve with pesto croutons and garnish with the remaining fried onion.