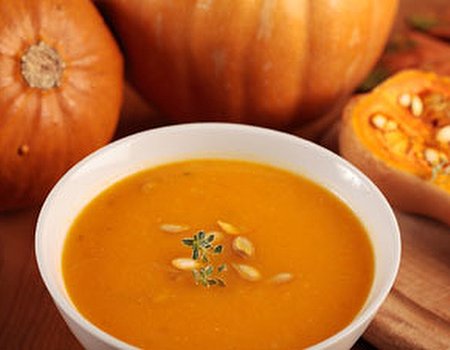 Although we're hankering after spring, we're not going to deny that it's still pretty nippy out there. We've therefore developed a bit of a knack for cooking up healthy comfort food dishes – and this delicious winter warmer from COOKS & CO is our latest favourite.
The nutritious recipe makes use of COOKS&CO Grapeseed Oil – a versatile cooking oil with a delicate flavour that's perfect for stir fries, fondues and sauces. Combine with pumpkin for anti-ageing alpha-carotene and garlic for an immune system boost and you've got a tasty but healthy supper. The best part? It's nice and easy - so it won't be too hard to rustle up after a long day at work.
Pumpkin soup
Serves: 4
You will need:
1kg pumpkin chopped into large roasting chunks
1 sliced onion
4 cloves of garlic
50ml COOKS&CO Grapeseed Oil
6 cups of chicken or vegetable stock
1 sprig of rosemary
1 tsp sea salt
Cracked black pepper
1. Heat oven to 180º C. Place pumpkin, onion, garlic and rosemary in a baking tray.
2. Brush pumpkin with the grapeseed oil. Sprinkle with salt and plenty of cracked black pepper.
3. Bake for 1 hour or until softly roasted. Pour a cup of stock into the pan to help remove roasted pieces. Lightly blend in batches with the rest of the stock, pouring into a saucepan.
4. Bring to the boil and then simmer up to 20 minutes. Garnish as above and serve with crusty bread.
Well, that's lunch for tomorrow sorted – perhaps we're not quite so desperate for spring to arrive, after all...
In the mood for some good food? You can purchase COOKS&CO Grapeseed Oil from Ocadom Budgens and Booths. Why not also have a browse through our recipe collection on the Happy Food blog for more tastebud-tingling meal ideas – trust us, you'll be a dab hand in the kitchen in no time.