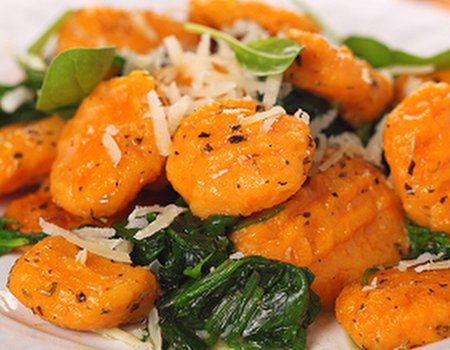 If your plans for the week include carving a ghoulish face into a pumpkin, there's a good chance that you'll end up with a good deal of pumpkin flesh (sorry we're really getting into the spooky spirit over here) left over. Rather than chucking it away or fashioning it into a shriek-inducing Halloween trick, why not transform it into a healthy, delicious meal that serves four to six? Grab your pumpkin, a few potatoes and some nutmeg and have a go at this deliciously different gnocchi recipe by Good Hemp Food…
Serves 4-6 Prep: 45 mins Cook: 20 mins 619 calories/ 6.1g fat per serving
You will need:
1kg pumpkin, peeled and seeds removed
700g potatoes, peeled and quartered
3 eggs
200g plain flour, plus extra for dusting
A whole nutmeg
100ml GOOD OIL (available to buy in Tesco, Sainsburys, Waitrose and Holland and Barrett), plus 1 tbsp
8 small sage leaves
Salt and pepper
Method:
Preheat your oven to Gas mark 7 (220C/425F). Place the potatoes into a pan of boiling salted water and cook for around 15 minutes or until tender.
Meanwhile, cut the pumpkin in cubes and place on a baking tray. Drizzle over a tablespoon of the GOOD OIL, season with salt and pepper and roast for around 10 minutes until they are soft.
Drain the cooked potatoes and return to the pan. Add the cooked pumpkin to the same pan and mash until the mixture is completely lump-free.
Grate in about half of the whole nutmeg and add extra salt and pepper if needed.
Beat in the eggs one at a time and then slowly incorporate the flour. Mix until the mixture has just come together as you don't want to overwork the dough. The mixture should be stiff, smooth and soft at this point so add extra egg/flour if required.
Dust the work surface with flour and tip the dough out onto it. Take a handful of the mixture and roll out into a long sausage that is about 1 inch in width. Using a sharp knife, cut the sausage into short lengths. Repeat this with the rest of the dough.
To cook the gnocchi, bring a large pan of salted water to a simmer and drop them in. When they float to the surface remove from the heat and drain.
Add the GOOD OIL to a large frying pan and heat gently for a minute. Add the sage leaves and cook until they begin to sizzle and go crisp. Tip in the drained gnocchi and shake the pan lightly to make sure the gnocchi is incorporated with the sauce.
Serve straight away in warmed bowls.