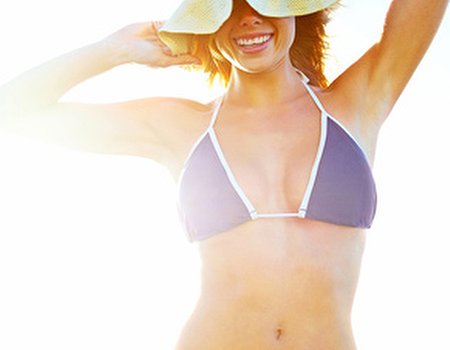 The weather may be a bit gloomy in the UK at the moment, but at Wahanda we're staying optimistic. Come August we could all be sizzling in a heat wave, so we reckon it's best to be prepared. That's why we were so excited to learn that drinking pomegranate juice could help to protect our skin from UV damage, as well assisting in the fight against flab. Time to replace our morning tea break with a pomegranate juice break...
We've all heard pomegranates described as a superfood, but what is it that makes them so super? Pomegranate juice contains plenty of natural antioxidants that increase the body's defences. The polyphenol antioxidants found in the fruit are particularly important in the summer, as they help to protect the skin against the sun's harmful UV rays – a great reason to make pomegranate juice one of your five-a-day.
Adam Pritchard, CEO of pomegranate juice makers Pomegreat, says: "Of course, the best way to stay safe in the sun is to wear plenty of high factor sunscreen and to stay in the shade. But we can all take care of ourselves from the inside as well as the outside, and we're delighted that pomegranate juice gives us added sun safety."
Beach babes will be excited to know that protecting your skin isn't all this impressive fruit can do – it can also help you to achieve the perfect bikini body. A study at Queen Margaret University in Edinburgh has found that pomegranate juice may help to reduce fat in the abdominal area. Time to say goodbye to that pesky paunch...
If you fancy pouring yourself a glass of pomegranate juice while you wait for the sun to come out, you can purchase Pomegranate Pure from Waitrose and Morrison's. Not so optimistic about the weather? Have a look at our offers on spray tanning to help you fake that sun-kissed look.