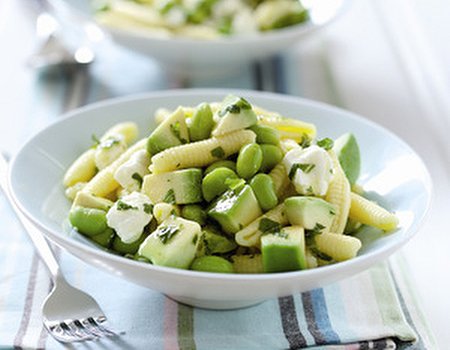 On our quest for the cream of the crop when it comes to healthy food and delicious drinks, we came across Summer Avocados who have very kindly given us some of their delicious recipes to share over the next few days - so, aprons at the ready…
Pasta, Avocado and Minty Beans Salad
Edamame or soya beans are available in most supermarkets these days and are fast becoming the latest 'must have' food.
Preparation Time: 10 minutes Cooking Time: 20 minutes
Serves 4
You will need:
150g frozen broad beans
150g frozen edamame soya beans
600g pasta
4 tbsp extra virgin olive oil or avocado oil
Juice of 1 lemon
Handful mint leaves removed & roughly chopped
Salt and freshly ground black pepper
1 Summer Avocado, halved, stoned, peeled and cut into chunks
200g Greek Feta, crumbled
Method:
1. Bring two pans of water to the boil.
2. Add the edamame and broad beans to one of the pans, cook for 5 minutes, then drain in a colander. When cool enough to handle slip the broad beans out of their skins, discard the skins.
3. Cook the pasta in the other pan of water as per pack instructions or until al-dente. Drain and transfer to a warm serving dish.
4. Whisk together the olive or avocado oil, lemon juice, mint and season lightly.
5. Lightly toss together with the broad beans, edamame beans and avocado and scatter over the feta. Serve immediately.
Free booklet for all
Sound good? If you want some more tasty treats to inspire your culinary skills, request your free 24 page Summer Avocado recipe booklet by either emailing  summeravocados@rt-com.com, or you can send a postcard to: Summer Avocado Recipe Booklet, 26 Fitzroy Square, London, W1T 6BT.