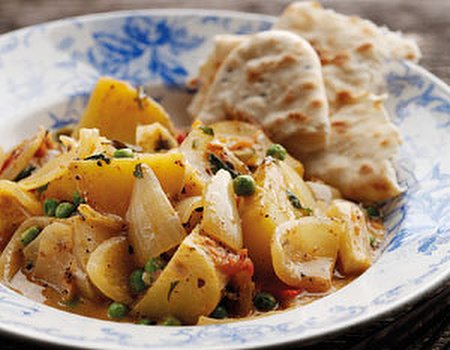 This is a perfect vegetarian dish packed with flavour and super-healthy with plenty of onions, tomatoes and potatoes. A delicious midweek meal for vegetarians or those looking to eat less meat, this spicy curry from the team at British Onions is perfect to include as part of an Indian banquet or for a yummy lunchtime treat.
Add warm naan bread on the side to soak up all the juices, and add any leftover vegetables, diced chicken or beef, peppers, butternut squash or even a handful of extra chillies for a healthy curry to warm you up and leaving you wanting seconds, and thirds....
Onion and Potato Curry
Serves 4
Preparation time: 15 minutes
Cooking time: 25 minutes
You will need:
1 1/2 tsp coriander seeds
1/2 tsp fennel seeds
1/2 tsp mustard seeds
1 tbsp sunflower oil
2 sticks of cinnamon
3 garlic cloves, crushed
5 dried curry leaves
1 green chillies, seeds removed and chopped
2 British brown onions, peeled and roughly sliced
2-3 tbsp coriander, chopped
5 medium-sized new potatoes cut into chunks
10 ripe vine tomatoes
250ml water
150g frozen peas
Approx. 3 tbsp thick, plain yoghurt
Method:
1. Place the coriander seeds, fennel seeds and mustard seeds in a dry pan and heat gently until they are lightly roasted and aromatic. Pour into a pestle and mortar and ground.
2. Pour the oil into a large, heavy-based pan, place over a medium heat and add the crushed spices, cinnamon, garlic, curry leaves and chilli, a pinch of salt and cook for two to three minutes.
3. Add the onion, turn the heat down low and cook for 15 minutes or until the onions are soft and beginning to take on a golden brown colour.
4. Add the potatoes, tomatoes and water then cover and cook for 20 minutes, or until the potatoes are tender.
5. Add the peas and cook for a further 15 minutes. Stir in the yoghurt and coriander leaves then season and serve with warmed naan bread.