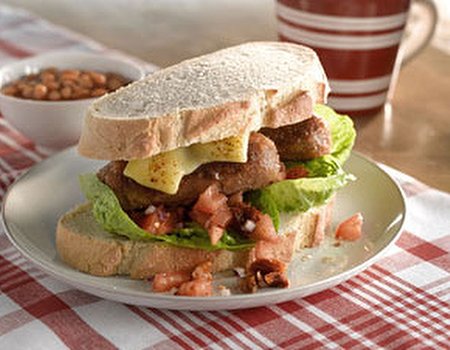 To celebrate National Vegetarian Week this year, how about swapping that meaty meal for some tasty and extra-healthy dishes packed with vegetables? With more and more warnings against the high levels of meat the UK currently consumes as well as some meats being high in saturated fats such as sausages and chorizo, swapping meat for antioxidant-rich veg is becoming more popular. A wise choice it is too, as veggie meals are likely to boost energy levels and lower the risk of cardiovascular disease.
Turning vegetarian isn't just about cutting out the meat - why not use it as inspiration to seek out some new ingredients to add to your culinary repertoire? Try quinoa or pea shoots in your salads, and pack lots of skin-loving avocados into your meals. Our mouths are watering just thinking about it...
If you can't resist a bacon butty in the morning or as a treat at the weekend, try this quirky recipe for a healthier version of the classic BLT from National Vegetarian Week. Go on, keep your heart and your stomach happy...
Triple BLT (baked bean banger, lettuce and tomato)
Serves 4
Preparation time: 15 minutes (plus 30 minutes chilling time)
Cooking time: 20 minutes
Can be vegan*
Ingredients:
1/2 onion, sliced
2 tbsp olive oil
100g mushrooms, chopped
1 standard can baked beans
1/2 tsp paprika
2 garlic cloves, crushed
1/2 tsp chopped fresh thyme
40g grated vegetarian cheese (or vegan 'cheese'*)
1 free range egg (omit for vegan option*)
20g sundried tomatoes in oil, drained
1 tsp vegetarian Worcestershire sauce
1/2 tsp vegetable stock powder
90g breadcrumbs
25g pine nuts
2 tsp wholemeal flour
Salt and pepper to taste
To coat:
1 free range egg, beaten (omit for vegan option*)
50g wholemeal flour seasoned with black pepper and paprika
Relish:
200g tomatoes, chopped
25g red onion, finely chopped
40g sundried tomatoes, chopped
1 lime, juice only
Black pepper and a little salt
To serve:
A few salad leaves
4 bread rolls
60g vegetarian cheese (or vegan 'cheese'*) cut into four slices
Method:
1. Gently fry the onion in oil for five minutes until soft, then add the mushrooms. Continue to cook until most of the moisture from the mushrooms has evaporated. While this is cooking divide the tin of beans into two. Set half the can of beans aside and drain off the sauce on the remaining half.
2. Place the cooked onion, mushroom and drained baked beans in a food processor with the paprika, garlic, thyme, cheese, free range egg (*omit if vegan), sundried tomatoes, vegetarian Worcestershire sauce, stock, breadcrumbs, pine nuts and wholemeal flour. Season with salt and pepper and whizz for 10 seconds. Allow the mixture to chill in the fridge for at least 30 minutes.
3. Shape the mixture into eight small sausages. Dip in the remaining egg (*omit if vegan), then roll in wholemeal flour.
4. Gently fry in olive oil for ten minutes, carefully turning from time to time.
5. To make the relish mix the tomatoes, red onion, sundried tomatoes, lime juice, black pepper and a little salt in a bowl, then set aside. For each serving, place salad leaves onto a bread roll, top with two sausages and relish.
6. Finally, add a slice of vegetarian cheese (or vegan 'cheese'*) to the frying pan and heat for 30 seconds. Top your sandwich with the cooked cheese. Heat the remaining beans and serve alongside your sandwich. Enjoy!