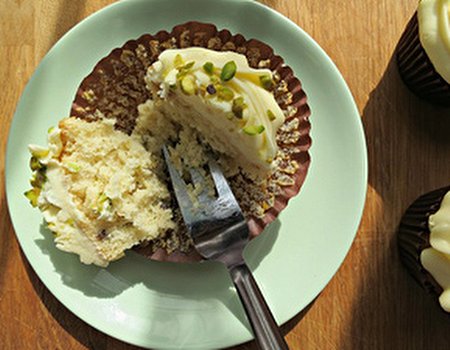 After years of providing us with (among many things) lovingly home-made birthday cakes, what could be a better way to return the favour this Mother's Day than a little bit of baking? We know cake isn't one of the major food groups we're usually encouraging you to eat, but here at Wahanda we're all about health beauty and happiness – and we believe nothing makes you happier than a little bit of what you fancy. Besides, baking is incredibly therapeutic, especially if you're following one of these simple recipes for elegant, delicious treats worthy of a place at the finest Afternoon Tea…
White Chocolate and Pistachio Cupcakes from www.thecakehunter.co.uk (pictured)
Makes 8
You will need
120g plain flour
140 caster sugar
1 1/2 teaspoons baking powder
pinch of salt
40g unsalted butter, softened
120ml whole milk
1 egg
1/4 teaspoon teaspoon vanilla extract
30g pistachios, shelled and chopped (plus extra for decoration)
80g white chocolate
300g icing sugar
150g unsalted butter, softened
2 tablespoons double cream (optional)
Method
Preheat your oven to 170 C/325 F. Mix the flour, sugar, baking powder, salt and butter in a mixer or with an electric whisk until you have a fine breadcrumb consistency.
Gradually pour in 60ml of the milk. In the other 60ml, mix in the egg and vanilla extract. Add this to the flour mixture and beat until smooth. Fold in the chopped pistachios.
Spoon into the muffin cases and bake for 20-25 minutes until light golden.
Meanwhile, make the icing by breaking up the chocolate and melting in a glass bowl over a pan of simmering water. Leave to cool slightly.
Beat together the butter and half the icing sugar then add the chocolate and double cream (the cream is optional but makes for a richer icing). Gradually add the final 150g of icing sugar until you reach a smooth, thick piping consistency.
Pipe or spread onto your cooled cupcakes and sprinkle over the chopped pistachios.
Orange marmalade cake from our favourite delicatessen Papadeli, Bristol
You will need
1 orange
2 eggs
55g plain flour
225g sugar
1 tsp baking powder
200g ground almonds
Fine shred orange marmalade
125g mascarpone
Icing sugar
Method
Put the orange in a saucepan and cover with water and simmer for about an hour. Allow to cool, cut in half to remove pips and puree in a blender.
Beat the eggs and sugar together then fold in the flour, baking powder, 0almonds and pureed orange. Bake in a preheated oven 180 degrees centigrade.
To make the topping, melt marmalade in a saucepan and allow to cool before mixing in the mascarpone.
The sharp topping is designed to contrast with the sweetness of the cake but if you find it a bit tart add icing sugar.
Makes about 10
You will need
260 grams plain flour
50 grams granulated sugar
2 teaspoons baking powder
1/4 teaspoon salt
75 grams cold unsalted butter
1 large egg
1 teaspoon pure vanilla extract
120 ml milk
Cream or Milk for glazing
Method
Preheat oven to 375 degrees F (190 degrees C) and line a baking sheet with greaseproof paper.
In a large bowl mix together the flour, sugar, baking powder and salt. Cut the butter into small pieces and blend into the flour mixture with your fingertips until the mixture looks like coarse crumbs.
In a small measuring cup whisk together the milk, beaten egg and vanilla. Add to the flour mixture and stir just until combined.
Transfer to a lightly floured surface and knead the dough gently four or five times and then pat into a 7 inch (18 cm) round. Then, using a lightly floured round cookie cutter, cut into rounds.
Place the scones on the baking tray, spacing a few inches apart. Brush the tops of the scones with a little milk to help brown the tops.
Bake for about 15 - 18 minutes or until nicely browned then transfer to a wire rack to cool. Serve with jam, cream and a nice cup of tea.
Please eat responsibly.