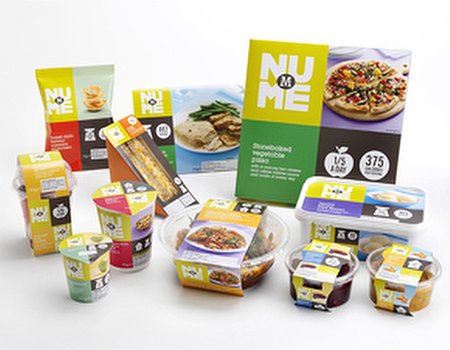 NuMe, pronounced 'new me' is Morrisons' brand-spanking new healthy food line. Without compromising on quality or pricing, Morrisons have coaxed years of expertise from nutrition specialists and Michelin chefs to create a tongue-tingling line of delicious products, all at their usual good value pricing.
The initial 300-product line contains frozen, chilled and snack items jam-packed with vitamins, nutrients and plenty of taste. We know one of the biggest contributors to weight gain is snacking, so their beetroot crisps and nut mix is perfect for mid-morning nibbles or the post-lunch slump. At 70p, it costs the same as a normal packet of crisps, so we'll never be out of pocket for choosing the healthier option – music to our ears.
Neil Nugent, Executive Chef and Head of Innovation at the supermarket, wants people to see the range as more than a method of shedding pounds. The NuMe range contains high fibre choices, dishes rich in Omega 3 and meals brimming with delicious fruits and vegetables.
The new range is aimed at promoting 'healthy' as a lifestyle choice rather than a dietary option. Working tirelessly to create a gourmet selection of hot and cold food, Morrisons have attached a straightforward labelling system to their NuMe range. The idea is to effortlessly navigate the options using the simple iconography; NuMe clearly points out all nutritional information, 'five a day' contributions and the number of Weight Watcher points – ideal for the less nutritionally technical among us.
Bryonie Hollaert, Morrisons' nutritionist, says: "Our increasingly busy lifestyles mean that we cannot always take time out to prepare healthy and tasty food. Lower fat options can prove uninspiring and tasteless while traditional 'fast food' can mean that what you save in time you gain in calories, saturated fat and nasty additives."
The NuMe range stocks delicious cuisines from around the world. They've created a Lebanese chicken with sweet potato falafel, which costs £3.50 and provides two of your five a day, while the Italian-style five bean stew is less than 2% fat, a rich source of protein, 224 calories and contains 3.5 of your five a day, ideal for warming the cockles on a chilly evening.
Belinda Youngs, Brand Director at Morrisons explains: "NuMe is about making it easier for customers to make healthier choices in store, without having to compromise on taste, quality or affordability. We're lucky to have a first-rate nutrition team that work alongside our star chefs to ensure this isn't about regimented health but nutritious, healthier choices that are really delicious too."
The NuMe range is available to buy today in Morrisons stores up and down the UK or available for delivery online. The initial range contains 300 delicious products but the super smart chefs and nutritionists are one step ahead in creating new, gastronomically delightful products to add to the range, including plenty more snack foods. We're keeping our eyes peeled.