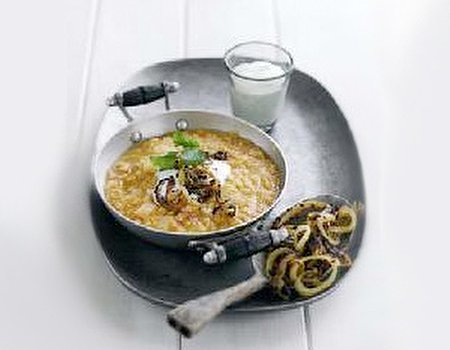 You may remember that a while back we blogged some tasty summer recipes from British Onions. Since then, the weather has got colder, the days have got shorter and even with the best will in the world and a good spray tan we can't pretend it's summer anymore. We were therefore excited to receive some winter-themed onion recipes for warming our cockles on those chilly evenings. Time to get stuck into some cooking...
First up is a tasty dahl recipe, made with lentils (great for keeping cholesterol levels down), turmeric (an anti-inflammatory) and of course onions (packed full with illness-fighting antioxidants). Who knew nature had such a well-stocked pharmacy?
Lentil dahl with spiced onions
Serves: 4
You will need:
1 litre water
1 large white British Onion roughly chopped
2.5cm/1 inch piece root ginger, peeled and finely chopped
1 teaspoon turmeric
1 teaspoon cumin seeds, roughly crushed
200g/7oz chopped tomatoes
300g/10oz red lentils
Salt and ground black pepper
Topping:
2 tablespoons vegetable oil
2 white onions, thinly sliced
1 clove garlic, finely chopped (optional)
1 teaspoon cumin seeds, roughly crushed
2 teaspoons back onion seeds
One quarter to half teaspoon crushed dried chilli
Pinch turmeric
150g/5oz Natural yoghurt
Small bunch fresh coriander to garnish
Method:
1. Pour the water into a medium saucepan, add the chopped onion, ginger, turmeric and cumin seeds then add the tomatoes and bring to the boil.
2. Put the lentils into a sieve, rinse with cold water, drain and then add to the saucepan with plenty of salt and pepper. Bring back to the boil then simmer for about 30 minutes, stirring from time to time until the lentils are soft.
3. About 10 minutes before you are ready to serve, make the topping by heating the oil in a frying pan, add the onions and fry gently for 5 minutes until softened. Add the garlic, if using, then the seeds and spices and fry for 3-4 minutes more, stirring until browned.
4. Spoon the lentils into bowls, top with spoonfuls of yogurt, the onion mixture and torn coriander leaves to garnish. Serve with warmed naan bread or chapattis.
Has this recipe tickled your tastebuds? Look out for more winter warmers from British Onions coming soon on our food blog.