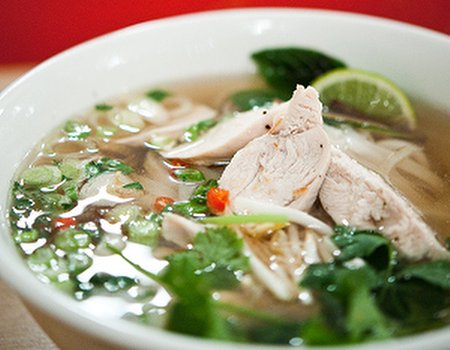 The Wahanda team are huge fans of Vietnamese restaurant Pho – so there was much rejoicing in the office when their chefs agreed to share some recipes with us. Offering tasty and nutritious street food, Pho allows busy Londoners to eat healthily, without compromising on flavour. It's really no wonder we're a bit addicted...
Never know what to do with your leftover Christmas turkey? The clever people at Pho have come up with a great solution in the form of this recipe for aromatic stock. Incorporating garlic to boost the immune system and anti-inflammatory ginger, this warming dish is just the thing to fight off any post-Christmas lurgies. We know what we'll be cooking up on Boxing Day...
Leftover Christmas Pho
You will need:
Chicken/turkey bones (carcass)
2 pieces Cinnamon
3 pieces Star anise
5 black peppercorns
10 coriander seeds
1-2 cloves
A 4 inch piece of ginger root
1 white onion
2 red shallots
1 garlic bulb
Method:
1. Bring some water to the boil in a very large stockpot. Wash the bones if raw, and add straight away. For a cooked carcass, add as it is.
2. Cut the ginger lengthways in half and roast in a dry hot wok with the garlic and shallots.
3. Roast in a dry hot wok the cinnamon, star anise, peppercorns and cloves. Add the coriander seeds to the wok last.
4. Rinse any black flaky pieces off the onions and garlic.
5. As the water reaches a simmer, skim off any scum or foam that forms. When the foam stops, it is time to add the spices.
6. DO NOT cover the pot when everything is added. Bring back to the boil. Oil can be skimmed off as the stock cooks, but a small amount is nice.
7. Reduce the temperature to its lowest and simmer on low for 2-3 hours.
8. Drain through a chinois and muslin cloth, before returning to the pot and seasoning with salt, fish sauce and sugar.
9. The stock is ready to serve – however, it can also be covered and stored in the fridge. Serve over blanched pho noodles and sliced cooked chicken/turkey, with a side of fresh herbs (coriander, mint, Thai basil), beanshoots, sliced red chillies, and a wedge of lime. Garnish with thinly sliced onion or spring onion.
Mouth watering at the thought of it? If you can't wait until Boxing Day to sample some Pho, why not visit www.phocafe.co.uk and find a restaurant near you.
For more great recipes, pop over to our food blog – we've got plenty of meal ideas to get your tastebuds tingling.