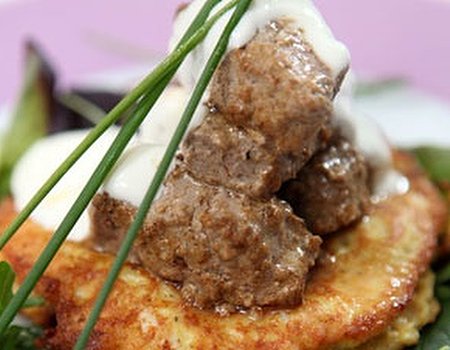 Forget Indian summer – we're hoping for an Indian spring. Created by celebrity chef Simon Rimmer on behalf of The One Brand, this tasty tikka dish has everything it takes to get those taste buds tingling. And as if that wasn't enough, it also contains a variety of different spices, in addition to garlic and ginger to boost the immune system and improve digestion. With this recipe stuck to our fridge we'll be able to say goodbye to fattening takeaways for good…
You will need:
For the curried cauliflower pancakes
1 head cauliflower, cut into small florets - blanched
4 salted anchovies, finely chopped
8 beaten One Good Eggs
100g dry breadcrumbs
50-75g plain flour
75g grated pecorino
1 tbs curry powder
100g ricotta
For the lamb tikka
800g cubed lamb loin (large cubes)
100ml natural yoghurt
Juice of 1 lime
2 cloves crushed garlic
25mm piece ginger, finely chopped
15g ground coriander
5g ground cumin
5g ground garam masala
5g paprika
Salt
Juice of 1 lemon mixed with 100g butter
Serve with a dollop of cucumber raita and coriander blended with vinegar.
Method:
To make the curried cauliflower pancakes:
1. Fry the blanched cauliflower and anchovies over medium heat for 2-3 mins until soft, stir regularly. Put in a bowl.
2. Add all the other ingredients and stir. Don't worry about lumpy cauliflower bits, they're supposed to be there!
3. Drop spoonfuls of the mix into a frying pan with hot oil. Cook for 3 minutes on each side.
To make the lamb tikka:
4. Combine the marinade ingredients, coat the lamb well, thread onto wooden skewers and cover and chill for at least 2 hours.
5. After they've marinated, place the pieces of lamb on medium heat on a BBQ, baste with the butter and lemon and turn when golden.
Serve with cucumber raita and coriander blended with vinegar.
Enjoy experimenting with spices? There's no need to stop at Indian cooking – why not have a look at our post on Kenyan Chai for a recipe that'll take you to an altogether different part of the globe…