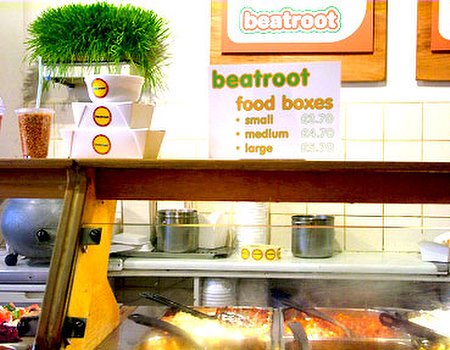 As it's Friday, a few of the Wahanda girls thought we'd pop out and treat ourselves to something tasty for lunch. There are veggies among us, so we decided to bypass the nearby sausage shop and instead made a beeline for vegetarian café Beatroot. And boy, we're glad that we did...
Situated on Soho's Berwick Street, this little gem offers a mouth-watering selection of hot and cold foods, all suitable for vegetarians. There are plenty of options to choose from (which is great if you are greedy like us and want to try a bit of everything). We loaded up our takeaway boxes - you can opt for small, medium or large - with lasagne, veggie sausage rolls, Greek salad, lentils, Moroccan tagine and rice salad. Needless to say, we're feeling pretty full now...
All the girls were very impressed with the quality of the food at Beatroot – it's varied, flavoursome and most importantly, healthy (just don't mention the fact that we followed it up with cake). We'll be heading back next week for some more veggie heaven, and we'll also be shopping for some fresh fruit and veg at Berwick Street's vibrant market. Sorry, sausage shop – meat is so yesterday...
Vegans, we know you are often overlooked – so you'll be glad to know that Beatroot sells a variety of dishes that are completely free of animal products. Think that a cheeky bit of cake would finish your meal off perfectly? Have a look at our recent post on naughty but nice vegan cupcakes.