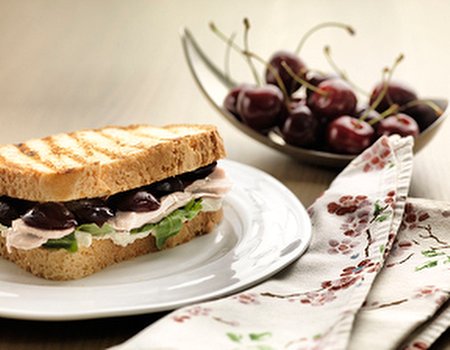 It sounds like something out of a sci-fi movie, but don't worry - this mega sandwich isn't about to develop intelligence and take over the world. In fact, it's just here to provide the nutrients and antioxidants our bodies need to stay fighting fit – so that we can concentrate on our own everyday battles. Sounds like a pretty super sarnie to us...
Scientists at Edinburgh's Queen Margaret University were set a challenge by Genius Foods (www.geniusglutenfree.com) to come up with the ultimate tasty yet nutritional sandwich – and we have to say, they've excelled themselves. After testing a number of different varieties of bread and fillings (we want their jobs!) the food scientists settled on turkey and cherry in gluten-free bread – a pretty festive result.
Want to have a go at making your own super sandwich? Full of protein, iron, calcium and sodium, in addition to folic acid and vitamins A and C, this satisfying snack will give any illnesses a real run for their money...
You will need:
2 slices of Genius bread
2 oz turkey breast
3 oz cherries (pitted and halved)
1 oz mild blue cheese, such as gorgonzola
1 teaspoon sherry vinegar
Salt and pepper
Rocket
Olive oil
Method:
1. Combine the cherries and vinegar in a small, glass bowl and season well with salt and pepper. Mix and set the mixture aside to macerate for at least 10 minutes.
2. In a separate small bowl, toss the rocket leaves with a little olive oil and set aside.
3. Layer the rocket, turkey breast, and cheese on a slice of bread, then top with the cherry mixture, including any juices in the bowl.
4. Close the sandwich with the top piece of bread, press down until it's flattened, and wrap it in aluminium foil.
5. Place the wrapped sandwich on a heated pan or on the grill and weight it down with a heavy object.
6. Grill for about 10 minutes, turning the sandwich over half way through. The bread should be toasted and the cheese is melted.
7. Let it rest in the foil for 3-4 minutes before eating.
Mouth watering at the thought of it? We've got some more gluten free Christmas recipes from Genius Foods coming up soon. For the moment, though, why not have a browse of our food blog for some terrific tips and tasty treats.