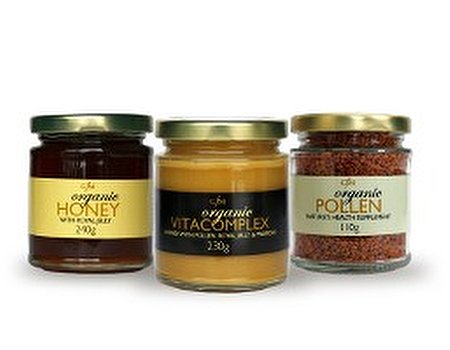 We recently wrote about slathering bee-derived products on our skin, and now we're turning our attention to one of the more traditional uses for honey – eating it. General Food Merchants (GfM) have just announced the launch of their Organic Wellbeing honey collection, which is designed to taste great as well as being nice and nutritious. We reckon the range is going to cause quite a buzz...
Not content with just sticking to honey (no pun intended), GfM have also blended royal jelly, propolis and pollen to create a range of spreads that are packed full with natural antioxidants, vitamins, minerals and enzymes. Not only will these healthy honeys taste great on toast or drizzled over porridge – they will also enhance your immunity and general wellbeing. Now that's what we call a multi-tasking breakfast...
Rachel Argyle, Director of GfM, says, 'Honey is bursting with natural goodness but it's only one element of the remarkable foods created by bees; we wanted to harness all the treasures of the hive and combine them to create a fully organic, healthy range of honey supplements.  
'The amazing success of Manuka proves how interested consumers are in the natural health properties of honey. Our new range showcases the excellent benefits of other bee products and how they can be a delicious and nutritious way to support daily wellbeing. Winning a highly prized 3 Star Gold Great Taste Award just as we launch these products gives me incredible confidence that they will be very well received.'
Got a sweet tooth? You can find out more about GfM's Organic Wellbeing collection and their award-winning Manuka honey at www.gfmhoney.co.uk. Fancy being queen bee instead of a worker bee for a bit? Treat yourself to a honey facial or honey massage and you'll feel like royalty in no time.