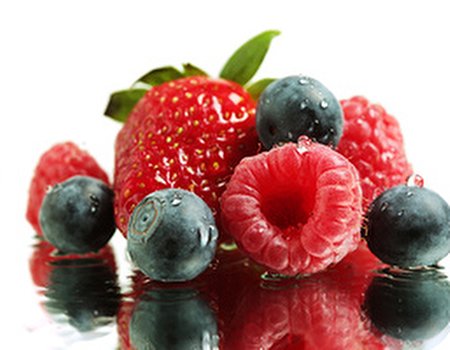 We all know that certain fruits boast antioxidant properties that can help to keep our bodies nice and healthy –but sometimes it can be hard to eat enough of them to reap the benefits. Feel like you're about to turn into a blueberry, Violet Beauregarde style? There is another way...
For the first time, UK residents now have access to Hiorac – a powerful antioxidant supplement designed to fight free radicals and reduce your chance of suffering from heart disease, cancer and dementia. Just 5ml of this clever formula is equivalent in antioxidant power to seven apricots, apples and bananas, 280g red grapes, pumpkin, broccoli and pineapple, and 70g blueberries. That's a pretty potent product...
Surrey-based alternative health company RB Enterprises has become the first UK business to stock Hiorac – something they're understandably pretty excited about. MD Rosemary Butcher says: "I first heard about Hiorac last year and found that it was strongly recommended by both regular users and experts for its health-boosting properties.
"Since then I've been receiving a growing number of enquiries from customers frustrated at not being able to get hold of the product in the UK.
"I'm delighted finally to be able to change that situation and am confident Hiorac will soon become a best-seller."
So how can you fit this wellness wonder into your daily life? Just take one drop a day with water or your favourite juice – 3ml if you are small, 4ml if you are medium-sized and 5ml if you have a larger body. To really harness the power of this awesome antioxidant, take daily for three months and then continue to take every other day. Well, it certainly beats trying to carry seven apricots into work each morning without squashing them...
To get hold of some health-boosting Hiorac, call RB Enterprises on 020 8241 9275 or visit www.rb-enterprises.co.uk. Want more advice on how to ensure a healthy diet? Check out our nutritional advice page for details of nutritionists near you.