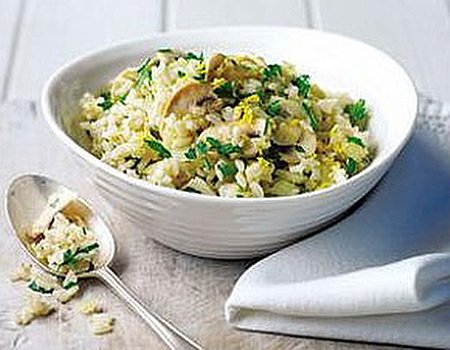 Treat your mum to a feast this Mother's Day. No, we don't mean by loading up on ready meals or ordering in takeaway – we're talking the real deal. Put that apron on, chain yourself to the hob and let your culinary skills do the talking...
If you're looking for a simple but delicious meal to impress Mum with, we think we might have the answer. You can't go wrong with a good traditional roast chicken, particularly if you serve it with lots of tasty vegetables and a good homemade stuffing. Try your hand at this moreish stuffing recipe from Genius Foods and you'll leave your mum thanking her lucky stars she managed to raise such a talented chef...
Not only is this recipe completely gluten free, but it also includes garlic and lemon to help aid digestion and boost the immune system – so you can convince Mum that you do eat healthily, after all (sssh - we won't tell her about the mid-afternoon trip to the vending machine if you don't).
Herb, mushroom, garlic and lemon stuffing
Serving: Makes sufficient stuffing for a 4kg/9lb turkey – reduce quantities if using to stuff a chicken.
Preparation time: Less than 30 mins
Cooking time: 35 minutes
You will need:
280g brown rice
60g butter or 2 tbsp olive oil
2 onions, finely diced
220g button mushrooms, finely
sliced
2 garlic cloves, finely chopped
4tbsp finely chopped parsley
Finely grated zest of 2 lemons
Juice of 1 lemon
Salt and freshly ground black
Pepper
Method:
1. Place the rice and a teaspoon of salt in a pan. Add twice the volume of cold water and cover with a lid. Bring to the boil, then gently simmer for 20-30 minutes or until the rice is tender.
2. Meanwhile, heat the butter/oil and add the mushrooms and onions. Season with salt and pepper and fry gently until soft. Add the garlic and continue to fry for another 30 secs. Remove the pan from the heat.
3. Once the rice, onions and mushrooms are cooked, mix together with the parsley, lemon zest and juice. Mix thoroughly and season as necessary. The stuffing should be delicately lemony. Use as required.
Really want to show off? We've also got a mouthwatering recipe for gluten free and lactose free bread sauce. Just don't get too good at this cooking business, or you might be expected to do it more often...