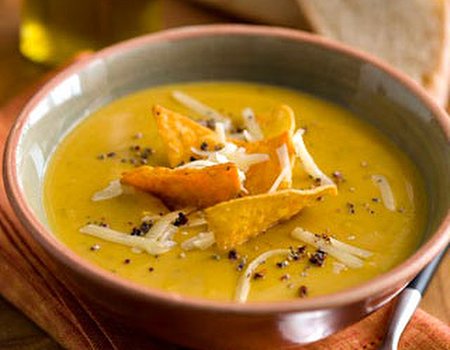 It's official, autumn is here – also known as 'soup season'. Perfect for those days when a soggy sandwich just won't cut it, soup is warming, delicious and above all healthy. To help thaw-out the coming cold weeks and shake up your lunch routine, we've rounded up a few tasty seasonal soups that are low fat, easy to make and even easier to eat.
Roasted Squash With Tortillas by Boursin
Serves 4
You will need:
1 x squash
3 tbsp olive oil
1 ½ tbsp fresh chopped rosemary
2 tsp fresh thyme
2 cloves garlic
1 Litre vegetable or chicken stock
1 x 150g packet Boursin black pepper
Tortilla chips and Gruyere cheese, to serve
Calories per serving: 410
Method :
Preheat oven to 200C
Peel and de-seed the squash, cut into chunks and place in a roasting tin with the olive oil, rosemary, thyme and garlic. Roast for 35 minutes, stirring once.
Remove the squash from the oven and place in a saucepan with the stock. Bring to the boil and simmer for five minutes.
Using a food processor or blender blend until smooth, gradually adding the Boursin black pepper.
Return the soup to a saucepan and reheat for a few minutes before spooning into bowls.
Scatter over tortilla chips and grated cheese and serve.
Creamy Cauliflower Soup by Alpro
Serves 4
You will need:
1 medium sized cauliflower
2 cloves of garlic
2 pinches of saffron
½ litre of vegetable stock
250ml of Alpro Almond Original alternative to milk
Zest of an unwaxed lemon
4 tbsp ground almonds
Plenty of black pepper
1 tbsp good quality extra virgin olive oil
Calories per serving: 121
Method
Chop the cauliflower into florets and add to a saucepan (keeping a few back) with the stock, a pinch of saffron and chopped garlic. Gently simmer for 20 minutes.
Add the ground almonds, lemon zest and Alpro Almond Original alternative to milk and use a blender or food processor to blitz until smooth.
Add a little of the olive oil to a pan along with the remaining cauliflower florets and saffron. Fry until tinged golden brown.
Add the fried florets and serve with a drizzle of olive oil and a good grind of black pepper. Delicious hot and cold.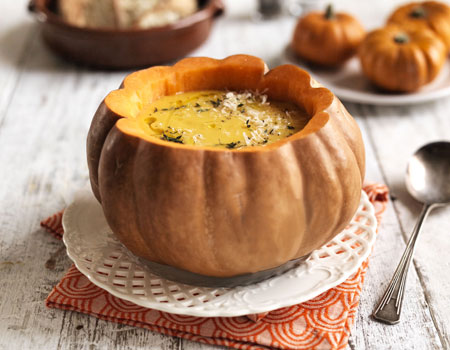 Serves 4
You will need:
900g pumpkin
2 leeks
2 cloves garlic
900ml chicken or vegetable stock
1 tsp ground ginger
2 tbsp single cream or crème fraiche
1 tsp ground coriander
1 bunch of coriander leaves
Calories per serving: 106.5 (made with single cream) or 109 (with crème fraiche)
Method
Begin by peeling the pumpkin, removing the seeds, and cutting into chunks. Trim and slice the leeks and roughly chop the coriander.
Heat some oil in a pan, add the leeks, garlic and spices and stir till the leeks have softened slightly.
Add the pumpkin and stock to the pan, bring to the boil, and simmer gently for 20-30 minutes, or until the pumpkin is tender.
Remove from the heat, and stir in the coriander and cream/crème fraiche.
Let the mixture cool for about 30 minutes, then blend at high speed until smooth.
Return the mixture to the pan and heat to serving temperature.
Serve with crusty bread... and a ghoulish Halloween laugh.