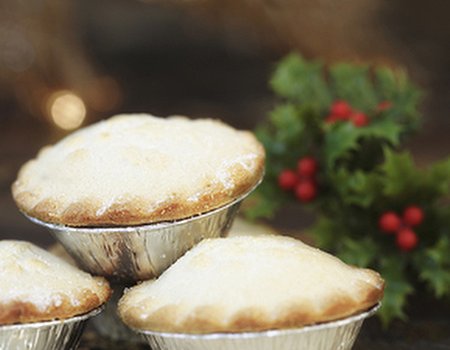 When Andy Williams sang 'It's the most wonderful time of the year' we're pretty sure he was looking around his office marvelling at all the tubs of sweets, boxes of chocolates and packets of mince pies. When it comes to food, Christmas really is the most wonderful time of the year – which explains why so many of us begin each January with a resolution to eat healthily and shed a few pounds.
This year we've decided to make January a little easier on ourselves by curbing our indulgence slightly and trying out a few healthy (but delicious) versions of our favourite Christmas recipes. If you're worried about overdoing it this year get some nutritious and delicious inspiration from this Honestly Healthy recipe for mince pies.
Honestly Healthy Mince Pies
Serves 6 – 8
You will need
1/2 cup of Dried Blueberry
1/2 cup of Dried Sugar Free Cranberry
1 cup of Sultanas
1 Orange Rind and half its juice
1 Lemon Rind
1/4 tsp of Grated Nutmeg
1 tsp of Cinnamon
3 tbsp of Agave
1/2 cup of Rice Flour
1/4 cup of Chick Pea Flour (gram)
1/4 cup of Corn Flour
4 tbsp of Coconut Palm Sugar
1/2 cup of Vegan Butter (Vitagquell)
1 tbsp Xantham Gum
Pinch of Himalayan Salt
1/2 tsp of Vanilla Essence
Method:
Preheat the oven to 170C.
Make the pastry by creaming the butter, sugar and vanilla essence together in a bowl.
In a separate bowl mix together both flours, xantham gum and salt.
Combine the contents of both bowls and mix together with your fingers to form dough. Knead for a minute and then roll into a ball, wrap in cling film and leave in the fridge for 30 minutes.
Make the filling by combining all the ingredients in a food processor or blender. Pulse until the mixture is a rough consistency.
Lay out your muffin tray and line with a little of the vegan butter.
Roll the pastry on a rice-floured surface until 3mm thick. Then using a cutter, stamp out rounds and re-roll the trimmings to get 14. Use the cut-outs to line the base of the tins.
Dollop 1 tbsp of mincemeat on each pastry cut out (don't overfill as it will bubble out in the oven) then with a star shaped cutter cut out 14 stars (or any shapes you would like!) and place over the top of the mincemeat pushing the edges of the stars down to the bottom pastry rim.
Put the mince pies into the oven, after 15 minutes take the mince pies out of the oven and leave to cool.
Once cool dust the mince pies with rice flour and tuck in.
For more healthy and delicious recipes check out www.honestlyhealthyfood.com