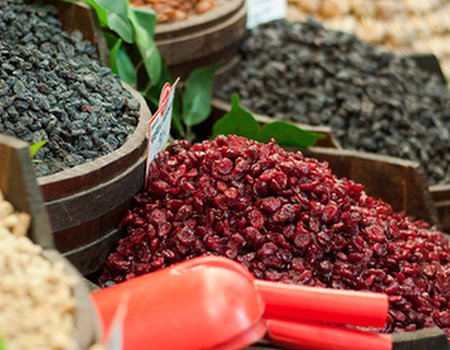 As you might expect from an office full of wellbeing enthusiasts, the Wahanda HQ cupboards are bursting with healthy snacks and treats. We love food, and we're also dedicated to making sure our bodies get the right nutrients – so we're always eager to try out anything new. When Holland and Barrett recently gave us a parcel of delicious goodies to taste, it was as if Christmas had come early...
Tend to turn to comforting junk food as soon as the colder weather sets in? Overhauling your diet can help to keep your digestive system in tip top condition, as well as protecting you against those pesky colds. Get it right and you might even be able to shift some of those extra pounds in time to squeeze into that festive dress – always a bonus.
Want to put together a feel good hamper for yourself or a friend this winter? Why not try some of these tasty treats:
Devilishly delicious chilli chocolate
Chocolate is always a hit at Wahanda, and if it's healthy chocolate, that's even better. Deeply dark with a fierce chilli kick, a little of Holland and Barrett's chilli chocolate really does go a long way. There's good news for slimmers, too – chilli can help to speed up your metabolism. Chocolate that could help you lose weight? We're hooked...
Linwoods Mini Variety Packs
Are you getting all the vitamins and minerals you need to help your body function properly? If you're on the go, it can be hard to make sure you are getting the right nutrients. We love the mini variety pack of super foods from Linwoods – containing 7 sachets that can easily be stashed in your handbag. Including super foods such as shelled hemp, organic flaxseed, pumpkin seeds and goji berries, these versatile packs can be sprinkled over porridge, added to salads or stirred into casseroles for a beneficial boost.
CoffeeActive from the Cho-Yung Weight Loss System
If you can't make it out of the front door without your morning coffee, then you're not alone. A large number of people rely on coffee to give them an energy boost, but this quick kick can also cause side effects such as insomnia, a raised heart rate and headaches.
When we discovered there was a much healthier alternative available, we nearly cartwheeled round the office. Cho-Yung's CoffeeActive is a unique blend of coffee and 14 health-boosting herbs and spices. Ingredients include bitter orange and cumin to increase the power of your metabolism and immune system, as well as fennel to purify and green tea to assist digestion. We know what we're having on our next coffee break...
Protein bars
Protein bars are a great snack for extremely active people who are looking to improve their physical performance and gain more defined muscles. With a low GI and plenty of protein, these compact bars can help to reduce cravings and aid weight loss. We found that the protein bars we tried were tasty, if incredibly sweet – and brilliant fuel for a workout.
Inspired to stock up your cupboards with healthy food? Head to Holland and Barrett to check out the full range, in addition to some fantastic skincare products, or visit a nutritionist for an in depth discussion about diet.