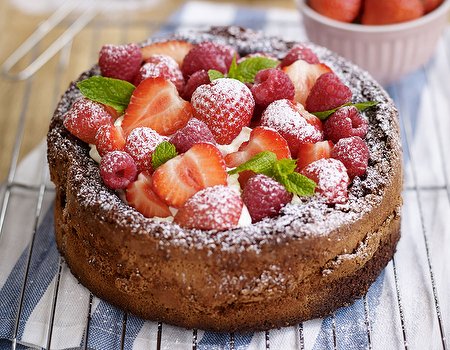 As The Great British Public falls under the spell of The Great British Bake Off once again, watching all that whisking, folding and tempering week on week is inspiring many of us to reach for the apron ourselves. And making us hungry. As our baking and consumption of sweet treats continues to increase, we thought we should test out a few healthy alternatives to classic bakes and say goodbye to our soggy bottoms. Want the muffin without the muffin top? Ready, set, bake!
Gluten Free Chocolate Cake with Sweet Eve Strawberries, from sweetevestrawberry.co.uk
TV chef and author Sophie Michell says of this cake: "This is a classic recipe that is very easy and brilliant for people with or without wheat intolerances."
Serves: 8-10
You will need:
250g unsalted butter (diced)
250g dark chocolate (broken into pieces)
Five medium eggs (separated)
250g golden caster sugar
200ml crème fraiche
Half a punnet of Sweet Eve strawberries (hulled and chopped)
Handful of BerryJewel raspberries
Sprig of mint
Icing sugar to decorate
Method:
Preheat the oven to 180°C/160°C fan and line a 20cm x 10cm-deep loose-bottom cake tin.
Melt the butter and chocolate together in a bowl over a pan of simmering water and stir occasionally.
While it's melting, whisk the egg yolks with half the sugar in a large bowl, until the mixture is pale, has thickened and doubled in volume.
In a separate bowl and using clean whisks, whisk the egg whites until stiff, then gradually beat in the remaining sugar one tablespoon at a time. Whisk after each addition until you have a stiff, glossy mix.
Fold the melted chocolate and butter into the egg yolk and sugar mixture, followed by the egg white mix in batches. Pour the mixture into the prepared tin and bake for 60-75 minutes or until a skewer inserted at the centre comes out with just a few moist crumbs clinging to it.
Leave the cake to cool in the tin. It will sink in the middle, but don't panic, this is completely normal.
Once the cake has cooled, remove from the tin and spoon the crème fraiche into the sunken centre and pile on the Sweet Eve strawberries, BerryJewel raspberries and a few mint leaves.
To finish, dust over a little icing sugar.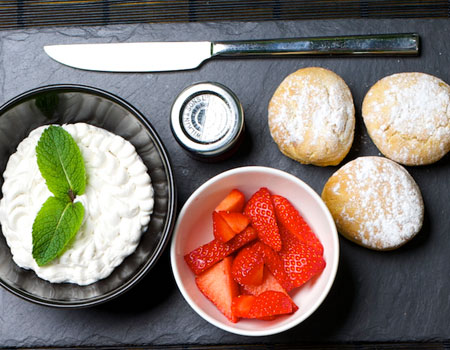 Vegan scones with strawberry jam and whipped coconut cream by RAW at La Suite West Hotel, Kensington
Vegan restaurant RAW 's healthy afternoon tea at La Suite West Hotel puts a nutritious twist on the classic English tradition. Their vegan tea features guilt-free sandwiches, cakes and – our personal favourite – scones. Up for a technical challenge? Here's their recipe for vegan scones with coconut cream.
Makes 10-15 scones
You will need:
3 cups plain flour
4 teaspoons baking powder
1/2 teaspoon salt
1/2 cup caster sugar
1/2 cup coconut butter
3/4 cup soy milk (plus a little extra for brushing)
Strawberry jam and whipped coconut cream for serving
Method:
Preheat oven to 180°C and line an oven tray with baking paper.
Sift the flour, baking powder, salt and caster sugar into a large kitchen bowl.
Mix the coconut butter into the flour mixture until it's crumbly.
Gently pour in the soy milk and mix with a spoon until combined, careful not to overdo it.
Pour the mixture onto a floured kitchen top and work into a dough.
Spread the dough to about 2cm thick.
Use a small cup (3-4 cm diameter) to cut out the scone shapes and gently press the sides to make them a little thicker - remember they're not meant to look perfect!
Place on the baking tray and gently brush the top of each one with soy milk.
Place in the middle of the oven and bake for 15-18 minutes or until lightly golden.
Serve warm with strawberry jam and whipped coconut cream.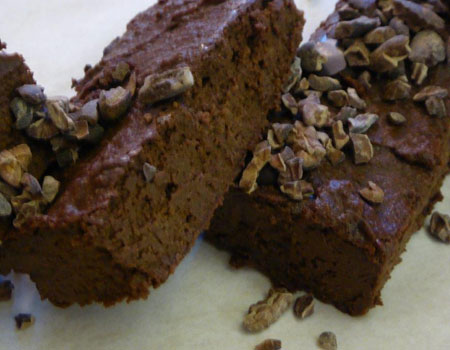 Chocolate brownies by Elizabeth Peyton Jones
Elizabeth is a food and health expert who specialises in helping people make dietary and lifestyle changes that rejuvenate their health, looks and wellbeing. Her brownies (featured in her cookbook 'Eat Yourself Young') are made using almond flour and protein-rich aduki beans as well as coconut oil, which actually speeds up the metabolism so your body burns more calories - now that's our kind of snack.
You will need:
100g dark chocolate (at least 70% cocoa solids)
80g coconut oil
30g cocoa powder
100g tinned aduki beans
100g Medjool dates, chopped
50ml coconut milk
45g ground almonds
1 egg
2 tsp vanilla extract
Method:
Grease and line a 20x10x6cm loaf tin. Preheat the oven to 180 degreeC/gas mark 4
Melt the chocolate and coconut oil in a pan over a very low heat. Stir in the cocoa and remove from the heat.
Rinse and drain the aduki beans, then put into a liquidizer with the dates, coconut milk and ground almonds and pulse to form a thick paste.
In a large separate bowl, beat the egg and vanilla extract together.
Fold the bean mixture into the chocolate, then add to the egg. Pour the batter into the tin and bake for 25-30 mins (don't overcook - brownies are best a little gooey).
Leave to cool, chill before serving and tuck in.
If you're skills aren't quite up to Mary Berry's standards, you can buy these beautifying brownies ready-made from epjhealth.com. Don't worry, we won't tell.