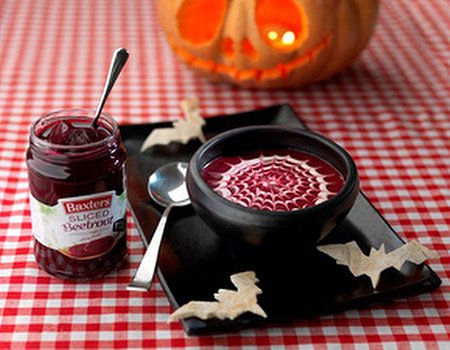 Double, double toil and trouble; fire burn and cauldron bubble. That's right everyone, Halloween is upon us and we've got our cauldron out here at Wahanda HQ and are preparing to conjure up something spooky.
With cold weather upon us we've been looking for a potion to warm us up, boost our immunity and give us lots of energy and hey presto, we think we've found something really magic. Baxters beetroot soup is nutritious, anti-oxidising and delicious. Best of all, it's blood red - making it the perfect, spooky way to get one of your five a day this Halloween.
Baxters Halloween beetroot soup
Serves four
You will need:
1 x 540g jar of Baxters sliced beetroot
1 onion, peeled and diced
2 cloves garlic, peeled and crushed
1 tablespoon rapeseed oil
600ml hot vegetable stock
Crème fraiche
Salt and pepper
1 tablespoon of sugar
Eye of newt (optional)
Method:
Cut the beetroot into small pieces and set to one side, ensuring they are well drained.
Heat the oil up in a large frying pan and add the onions and garlic and fry over a gentle heat for 15 minutes or until very soft. Add the diced beetroot and mix well, before adding the hot vegetable stock. Simmer for 20 to 25 minutes before taking off the heat and allowing to cool slightly.
Liquidise the soup with a hand held immersion blender or in a food processor until smooth.
Add a tablespoon of sugar and stir well.
Season to taste before reheating the soup over a low heat until it is hot, but do NOT allow to boil.
Serve immediately with crusty bread or croutons, a swirl of crème fraiche on the top and a hearty cackle.