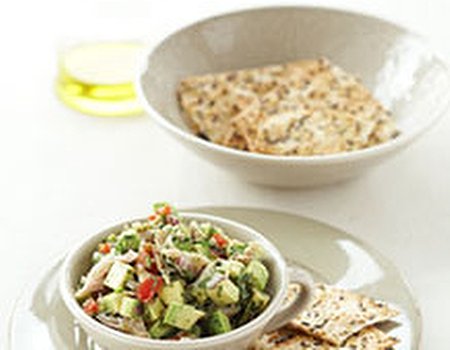 Calling all foodies – we've got another healthy treat to tickle your taste buds. Our third recipe courtesy of Summer Avocados is by Jenny Morris, AKA The Giggling Gourmet. Bursting with flavour and full of goodness, this guacamole would be perfect served with flatbreads and summer drinks. Cheers!
Guacamole
Serves: 6
You will need:
Zest and juice of 2 fresh limes
3 tbls olive oil
1 medium red onion chopped
4 firm ripe tomatoes chopped
½ bunch roughly chopped coriander
½ cup chopped parsley
2 green chillies chopped
1 clove crushed garlic
Salt and freshly ground black pepper
3 firm ripe Summer Avocado pears peeled and diced at the last moment
Method:
Place all the ingredients except the avocado into a large bowl and gently mix together. Place in the fridge for an hour, then just before serving stir in the avocado so it keep its shape and doesn't become too mushy.
Tip: For a truly South African guacamole with a twist, stir in some smoked snoek - if you can't find smoked snoek, flaked smoked mackerel would be fabulous!
You can add an extra mashed avocado to the chopped ingredients before you stir in the chopped avocado if you want it to be a little creamier.
Free booklet for all
Sound good? If you want some more tasty treats to inspire your culinary skills, request your free 24 page Summer Avocado recipe booklet by either emailing summeravocados@rt-com.com, or you can send a postcard to: Summer Avocado Recipe Booklet, 26 Fitzroy Square, London, W1T 6BT.