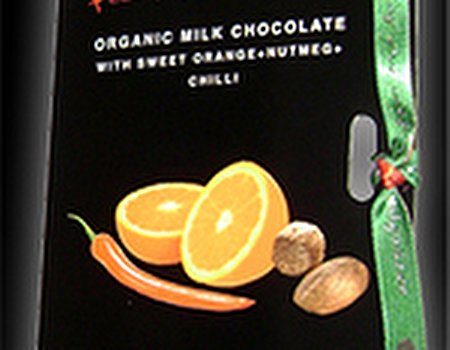 There was great celebration at Wahanda HQ when we discovered that chocolate could help to keep us healthy. We love a sweet treat every now and again – so we were even happier when we were introduced to Bristol-based chocolate company Feeding Your Imagination and their innovative Fairtrade chocolate bars. An indulgent snack that's delicious and therapeutic? Sounds right up our street...
The chocolate bars, which are handmade using natural essential oils and herbs, have recently been awarded four gold stars in the Great Taste Awards – marking them out as some of the best products in the food industry. And there's good news for chocolate connoisseurs who are easily bored – with fifteen different flavours to choose from, the Feeding Your Imagination range offers plenty of variety. Choose from creations such as the 'Sexy' bar with spicy chilli oil, the 'Sensual' bar with orange oil and nutmeg and the 'Seductive' bar with goji berries and jasmine tea. They all sound so delicious that we can't make up our minds which one to go for first...
A combination of chocolate and essential oils may seem strange – but then chef Paul Da-Costa-Greaves, the brains behind the brand, is not your average chocolatier. Paul, who is trained as a spiritual healer, wants each chocolate bar to act like a 'massage from within'. He says: 'Every chocolate bar is tailored to create a mood. I believe that through working with complimentary essential oils we can aid natural health and restore balance. I have used this harmony of essential oils and herbs and infused it into chocolate - my aim is to create a fabulous tasting, Zen-like experience for every day issues like fatigue, restlessness and indigestion.'
A fabulous tasting, Zen-like experience? Say no more – we're hooked. We can't wait for the festive season so that we can try out the Feeding Your Imagination Christmas pudding too...
Want to taste these therapeutic treats for yourself? You can purchase them at www.feeding-your-imagination.co.uk. Alternatively, if you prefer not to eat your essential oils, check out our offers on aromatherapy massage - they might be more your thing.