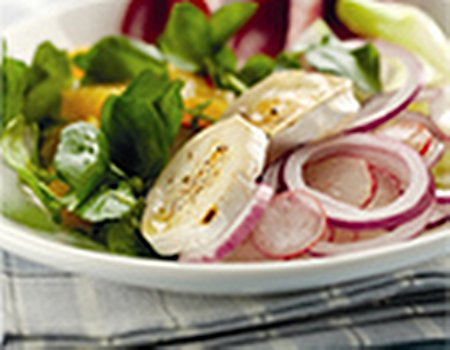 We've come to the last recipe in our series from British Onions (www.onions.org.uk), and we have to say we feel a little mournful. We don't know about you, but we've really enjoyed our onion education – who knew that these fantastic vegetables were as healthy as they are flavoursome?
Over the past couple of weeks we've cooked up a tasty tagine, made ourselves some warming soup and prepared a healthy summer salad. And the best part? All these delicious dishes have contained antioxidants to protect our bodies and chromium to keep our energy levels up.
The fourth meal idea from British Onions is no exception. We do have to attach a warning to it, though: this recipe is so mouth-watering you may find yourself dribbling on your keyboard...
Goat's cheese brulé with orange, red onion and watercress salad
Serves: 4
You will need:
½ red onion, sliced into thin rings
1 fennel, halved then thinly sliced
2 oranges segmented
1 chicory, torn into separate leaves
20 radishes, thinly sliced
1 bunch watercress
2 small goat's cheeses, cut in half horizontally
2 teaspoons caster sugar
Juice ½ orange
1 teaspoon red wine vinegar
Salt and pepper
2 tablespoons of good olive oil
Method:
1. Prepare all of the salad vegetables and place into a salad bowl. Make the dressing by whisking the orange juice, red wine vinegar, salt and pepper and olive oil.
2. To brulé the goat's cheese you can either use a cook's blowtorch or a hot grill.
3. If you're using a blowtorch: Sprinkle half a teaspoon of sugar onto the open side of the cheese and grill the top until the sugar has melted and the cheese is golden and slightly charred.
4. If you are using the grill, make sure you place the cheese on an oiled surface, the grill is really hot and you do it on the highest shelf. That way the cheese is less likely to melt and spread out.
5. Toss the salad well in the dressing and serve between 4 plates. Top with a slice of goat's cheese and serve.
Wondering what to make for dinner next? Keep an eye on our food blog for more great recipes coming soon...