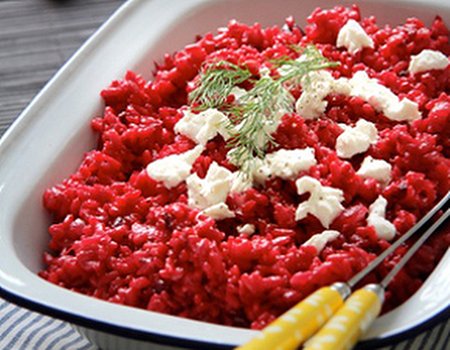 Have you found yourself with a bad case of the sniffles this autumn? It's official, there's something going around. We've had it at Wahanda HQ and you could be next. Luckily we've taken time out from all our sniffing and sneezing and had a look into immune-boosting super foods to tuck into this cough and cold season.
So far, nothing beats the nutritional and health benefits of the beetroot. Bursting with iron, vitamin A, C, and antioxidants like beta-carotene and betacyanin (the pigment that gives beetroot its colour) the humble beetroot has been shown to improve stamina, reduce blood pressure and cholesterol and combat tiredness. Told you it was super. Take a look at this gorgeous Beetroot Risotto recipe from gourmet dip specialists G'NOSH.
G'NOSH beetroot risotto
Serves: 4-6
You will need:
500g fresh whole beetroot
G'NOSH Beetroot & Mint dip
2 tbsp olive oil
Knob of butter
1 large onion, finely chopped
1 garlic clove, finely chopped
500g risotto rice
250ml white wine
600ml of hot vegetable stock
Handful of grated Parmesan
4 tbsp soured cream (or use crème fraiche)
Handful chopped flat parsley
Method:
Peel and dice the whole fresh beets into quarter wedges. Roast on 175 deg for 20minutes.
When beets are cooked dice into small 1cm cubes.
Melt the butter in a saucepan and cook the onion until softened, together with garlic. Add in the risotto rice and stir until well coated and avoid rice sticking to pot.
Pour over the vermouth and cook, stirring until almost fully absorbed. Add a ladleful of the stock to the rice and once again, stir until almost fully absorbed.
Continue adding the stock, a ladleful at a time, until the rice is tender and creamy. You may not need all of the stock.
Stir through a tub of G'NOSH Beetroot & Mint dip. This gives a further depth in colour, richness in flavor and a kick.
Remove from the heat and mix in the grated Parmesan and flat parsley, gently stirring to mix through.
To serve: Add a dollop of sour cream or crème fraiche on the top with cracked pepper or sprinkle more Parmesan or crumbled goats' cheese on top.