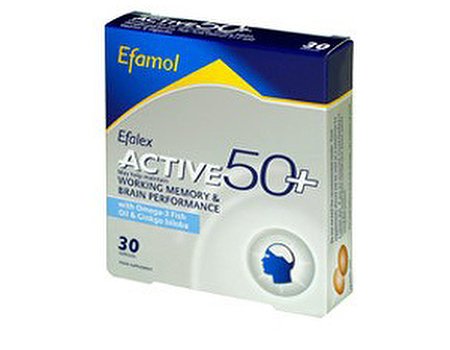 Are you including enough fish in your diet? According to a recent study, many of us do not eat enough fish and seafood – meaning that we miss out on nutrients which could improve our brain's cognitive abilities. Looks like it could be time to crack open a can of tuna...
Previous research has shown that increased levels of DHA (docosahexaenoic acid) can benefit those suffering from cognitive disorders such as Alzheimer's disease - and now it looks like this nourishing nutrient could be helpful to us all. An omega-3 fatty acid found in fish oil, DHA can help to increase the speed of working memory by up to 15% - as well as increasing the speed of episodic memory by up to 7%. Make ours a mackerel sandwich...
The study, which was conducted at Massey University, New Zealand, compared the cognitive abilities of healthy adults given concentrated DHA rich fish oil over a 6 month period with those given a placebo. The results were impressive – with those receiving the Efalex® Active 50+ supplement demonstrating a significant improvement in memory by the end of the trial.
Professor Welma Stonehouse, who led the research, says: 'This is the first robust study to show that a DHA-rich supplement can improve some aspects of memory functioning in young healthy adults that normally follow an omega-3 deficient diet. These findings contribute to the growing body of research showing that omega-3's play a very important role in brain function throughout the life cycle, even in healthy cognitively intact individuals.'
Looking to up the amount of omega-3s in your diet? Salmon, sardines, tuna and herring are all rich in DHA, and can be easily incorporated into salads, stir fries and other simple dishes. Of course, it's not always easy to get enough nutrients, particularly if you're not a fan of fishy things – which is where Efalex® Active 50+ comes in.
The first fish oil supplement developed specifically for the over 50s, Efalex® Active 50+ contains concentrated fish oils, gingko bilboa, vitamin B12 and folic acid to help maintain healthy brain function. Available from Boots and Waitrose, the supplement is ideal for those who don't consume enough fish or seafood and are concerned about their cognitive performance. After all, who doesn't want to stay nice and sharp?
Want to boost your brain power? Visit www.efamol.com for more information on Efalex® Active 50+, or read our post on how to eat your way to a healthy brain.