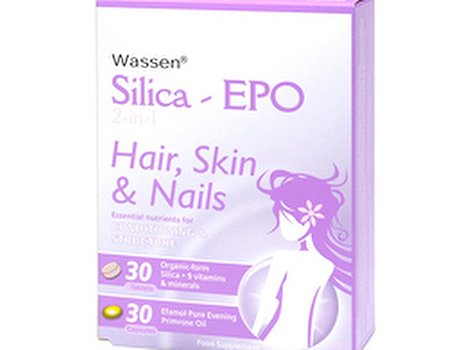 Looking forward to your next beauty treatment? We love a good pampering session as much as anyone, but it's important to remember that there isn't always a quick fix. Booking yourself in for a hair conditioning mask, manicure or facial will give you an instant beauty boost - but if you don't look after your body from the inside too then your efforts will be wasted. Well, they do say that you are what you eat...
If you've ever found yourself trying to eat breakfast as you run out of the door, working on the train to meet a deadline or staying late at the office to finish a project, you'll know that stress can have a big impact on your hair, skin and nails. A busy lifestyle and lack of essential nutrients can cause hair and nails to become weak and damaged, as well as draining your skin's vital glow. Luckily, there is a solution: new beauty supplement Silica-EPO can't share your workload or give you permission to snooze during the day - but it can help to nourish your hair, skin and nails. Sounds good to us!
Silica-EPO's clever 2 in 1 formula consists of one capsule and one tablet to be taken daily after food. The capsule contains evening primrose oil, which is rich in the polyunsaturated fatty acid GLA – improving the skin's texture and helping to maintain its natural barriers. Combine this with the Silica-EPO tablet, which contains 10 essential vitamins and minerals, and you have a pretty powerful product. We defy your hair, skin and nails to lack lustre after this concoction...
Lazy cooks be warned – Silica-EPO is designed to support a healthy diet, not to replace it. Thinking of ordering in pizza again tonight? Why not put that leaflet away and check out our tips on how to eat your way to healthy hair and skin.
Desperate to nourish your nails, give your barnet a boost and get sexy skin? You can purchase Silica-EPO from September at your nearest Boots. Don't forget to let us know what you think of it on Twitter!