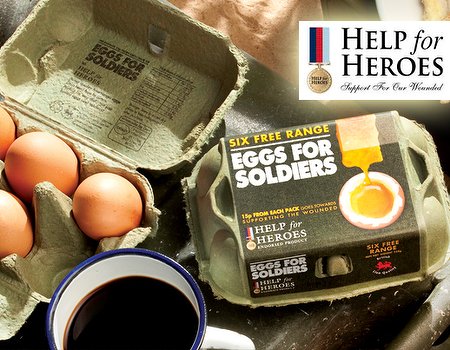 The most important meal of the day wouldn't be the same without the quintessentially British boiled egg. And now every time you use these 'egg'cellent ingredients, you can donate to another brilliantly British institution - Help For Heroes.
Buy 'Eggs For Soldiers' Free Range eggs for the 'poultry' sum of £1.69 from Tescos and Morrisons and they will donate 15p to support wounded servicemen and women returning from Afghanistan and Iraq. An amazing £100,000 has been donated by Tescos alone so far and with your help aim to give another £120,000 this year to care for our fabulous forces.
Perfectly packaged by nature, eggs provide a protein filled, slow release energy hit to keep even the hungriest tummy from rumbling until lunchtime. As if that wasn't enough, they are also a rich source of vitamins B12 and riboflavin (vitamin B2). Chicken eggs are also a satisfying source of the fat-soluble vitamins A and D.
To get you started, here are two simple yet 'egg'citing ideas for quick and healthy, feel-good food:
The Perfect 'Egg and Soldiers'
Everyone loves a boiled egg, but timing them can be tricky. Follow these simple steps and you'll never create a dry-yolked disaster again:
You will need: one egg per person, sliced bread (toasted), butter or margarine, a pinch of salt
Take one medium to large egg per person (or two each if you're feeling hungry)
Boil enough water in a pan to cover the eggs and add a pinch of salt. This stops the eggs from cracking and running all over the place.
Once boiling, gently lower your eggs into the water and time for exactly 4 minutes.
Whilst your eggs are boiling, make your 'soldiers' by spreading bread or toast with butter and cutting into strips.
Remove the pan from the heat and scoop out your eggs with a slotted spoon.
Cut the top off your egg and dip away!
Eat Your Greens Omelette
This fabulous folic acid packed frittata-style dish is perfect for a healthy dinner and tastes just as good cold for a next-day light lunch:
You will need: 6 eggs, 200g (half a bag) spinach leaves, 1 large white potato (sliced), 1 tbsp olive oil, Half an onion (finely chopped), Salt and Pepper to season (serves 4)
Boil a kettle full of water. Place the spinach into a colander over the sink and pour the boiled water over to 'wilt'.
Rinse your now-squishy spinach with cold water and squeeze the leftover liquid.
Beat the eggs in a bowl with a small splash of water. Add salt and pepper to season.
Heat your olive oil in a frying pan and add the potato slices and onion. Cook on a medium heat for 10 mins or until the potato is soft.
Stir in the wilted spinach.
Add the eggs. Cook gently, stirring every so often to prevent the base sticking until the eggs are starting to set.
Pop under the grill to cook the top, watching to make sure it doesn't burn. The frittata is cooked when it no longer looks 'wet' and feels firm and slightly springy to the touch.
Tip: For an extra something, try adding a pinch of nutmeg to the eggs before beating them, it's delicious with spinach. Other awesome add-ins include a little minced garlic, a few halved cherry tomatoes or a handful of grated cheese.