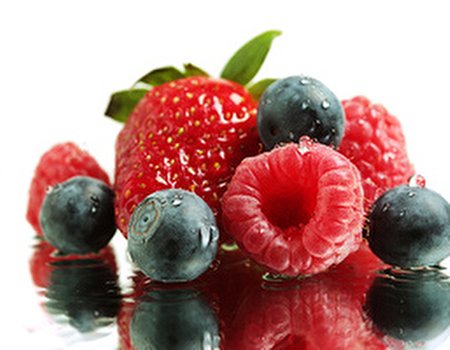 Fed up with all those lotions and potions cluttering up your bathroom shelves? If you are looking for a less stressful way to improve your skin, all you need to do is make a few adjustments to your diet. Start including some of these tasty and nutritious foods in your meals to give your skin a natural boost and leave you looking healthy and radiant. You'll be able to throw out those old pots of skin cream in no time – making it easier to find your toothbrush in the morning. Hooray!
Berries
Skin feeling the strain of your busy routine? Put down your Blackberry and snack on some blueberries. These tiny fruits are bursting with antioxidants which target free radicals and prevent damage to skin cells. Why not scatter a handful of mixed berries over your cereal in the morning for a tasty twist – trust us, your complexion will really thank you for it.
Citrus fruits
Skincare just got juicy. We all know that eating citrus fruits can help to boost our immune system, but did you know that they're great for your skin too? Vitamin C and bioflavanoids found in lemons, oranges, grapefruits and limes help to encourage the body's collagen production, keeping skin nice and supple. Bored with orange juice? Try eating a fresh grapefruit for a refreshing breakfast, or adding citrus fruits to fruit salad.
Salmon
We mentioned salmon in our post on healthy eating tips for great hair, and now we've got another great reason for including this versatile fish in your diet – it's good for your skin, too. Salmon contains a high concentration of fatty acids which are essential for nourishing the skin and helping to avoid wrinkles. Serve grilled with some leafy green veg or a summer salad for a delicious dinner that will leave you feeling wonderfully healthy and smug.
Sunflower seeds
Not just a pretty flower. Sunflower seeds are high in vitamin E, which helps to prevent the ageing of skin cells. Simply scatter over salads or keep by your desk as a snack to help stave off hunger pangs during the day.
Water
Water is vital for keeping skin cells hydrated and getting rid of toxins. You might be sick of hearing about how you should be drinking 8 glasses of water a day, but one thing's for sure – it's a much cheaper way of looking after your skin than investing in an expensive cream or serum. Can't face another glass of H2O? Alternate your intake with cups of green or black tea, which both contain a variety of antioxidants to help keep you nice and healthy.
Looking for other ways to rejuvenate your skin? We've got lots of great deals and offers on facials and body exfoliation treatments to get you looking fresh and new in no time.