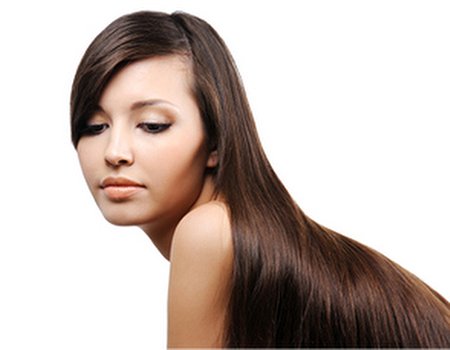 You've tried all the latest shampoos, invested in a posh conditioner and been for a blow dry - but you still don't look like the models in the hair adverts. Have you considered that it might be your diet standing between you and terrific tresses? Well, they do say that you are what you eat...
Before you tear all your hair out in frustration, have a look at our tips on what to include in your diet to help keep your hair healthy. All of these foods are high in nutrients that will fortify your follicles and leave your mane looking strong and shiny. Race you to the supermarket...
Salmon
Make sure there's something fishy going on at dinner time. Salmon is packed full with important omega-3 fatty acids which are great for keeping your hair and scalp in good condition – and it also contains vitamin B12, which boosts hair growth. Think that fish are friends, not food? You'll be glad to learn that you can also get omega-3 fats from flaxseed.
Whole grains
Whole grains contain zinc, iron and B vitamins that will help keep your hair in tip top condition. Start the day off with some whole grain toast or a bowl of whole grain cereal – your hair will thank you for it and you won't have a rumbling stomach during that morning meeting.
Beans
Keep your finger on the pulse. Soy beans, kidney beans and lentils contain high levels of iron, which helps your blood to get enough oxygen to the scalp and promotes healthy hair growth. They also contain lots of protein and biotin, a nutrient which helps to protect against brittle hair.
Low fat dairy products
Low fat dairy products such as milk and yoghurt contain calcium, a mineral which is vital for keeping hair nice and strong. Cow's milk also contains iodine, which experts have suggested may be good for hair growth – another good reason to have a bowl of cereal in the morning.
Almonds
These nifty nuts are a good source of Vitamin E, which is important for strong and shiny hair. They also contain plenty of iron, which helps to keep the circulatory system healthy and prevent hair loss. Snack on almonds at work to keep you going and not only will you have luscious locks – you'll also be able to beat that afternoon slump. We know what we'll be reaching for next time we feel peckish...
Looking for other ways to keep your barnet looking beautiful? Check out our deals on haircuts to banish split ends, or our offers on conditioning treatments to restore some va va voom to dry or damaged hair. You'll have traffic-stopping tresses in no time...