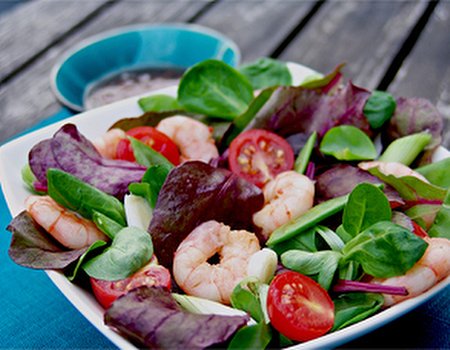 Seafood lovers - prepare to have your tastebuds tingled. The second of our recipes from salad specialists Florette combines juicy prawns with the earthy taste of ruby chard to create a great summer dish. Add to that a delicious Asian-style dressing and you've just found your new favourite light lunch...Make sure you save some for us!
Duo lambs lettuce and ruby chard with Asian prawns
Preparation time: 15 minutes
Serves: 4
You will need:
1 bag of Florette Duo Lambs & Ruby Chard
100g/4oz mange tout
150g/5oz cherry tomatoes
3 spring onions, trimmed
225g/8oz cooked tiger prawns
1 red chilli, deseeded and sliced
2 tbsp reduced sodium soy sauce
1 tbsp rice wine vinegar
1 tbsp vegetable oil
1 tsp caster sugar
Method:
Cook the mange tout in boiling water for 1 minute, drain, then rinse in cold water and drain again. Thinly slice the mange tout and place in a bowl. Chop the tomatoes in half. Thinly slice the spring onions into strips.
Toss together the mange tout, tomatoes, & spring onions. Add the chilli, soy sauce, vinegar, sugar and prawns and toss together again. Leave to marinate for 5 mins.
Add the salad leaves then toss together before serving.
The new Florette Duo range combines popular salad leaves in a handy 70g bag – helping to take the effort out of preparing delicious meals. Want to find out more? Visit www.florette.com for some summer salad inspiration.