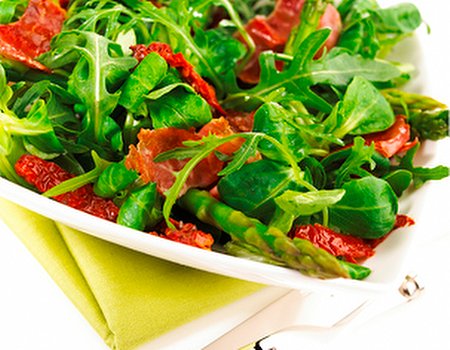 The sun has finally come out – and it's about time, too. We've been waiting for months for some hot weather, and now that it's here we intend to enjoy every moment of it. That's why we'll be cooking up this tasty salad, recommended to us by prepared salad specialists Florette. Bursting with flavour but light enough to enjoy in a heat wave, this dish is a great way to get your greens without disappointing your taste buds (or your waist line!).
Duo lambs lettuce and rocket with asparagus and pancetta
Serves: 4
You will need:
1 bag of Florette Duo Lambs Lettuce & Rocket
250g of asparagus tips
130g of pancetta
100 ml of French dressing
1 tsp of honey
Method:
Boil the asparagus tips for approximately 4 minutes until tender. Gently fry the pancetta until crisp and golden. Drain on kitchen paper and cut into bite-sized pieces.
Mix the honey with the dressing and pour over the salad. Toss the salad lightly with the pancetta. Top with the asparagus and serve.
The new Florette Duo range combines popular salad leaves in a handy 70g bag – helping to take the effort out of preparing delicious meals. Want to find out more? Visit www.florette.com for some summer salad inspiration.