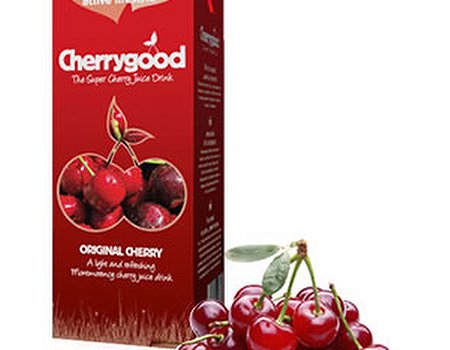 It might not immediately spring to mind as a sleep aid, but sales of cherry juice have been rocketing lately as a result of the product's beneficial properties. Move over, Horlicks – there's a new kid on the block...
A recent study at Northumbria University has shown that drinking the juice of tart Montmorency cherries can increase total sleep time by up to 25 minutes – good news for those who tend to find it difficult to get enough kip.
Unfortunately, squeezing the juice out of fresh cherries is no easy task – which is why we're pretty relieved that the lovely people at Cherrygood will do it for us. Producing the UK's only ready to drink cherry juice, Cherrygood is working hard to keep up with the new found demand for this health-boosting beverage.
John Heseltine, the company's founder, says: 'Sales have quite simply gone through the roof in the past month following all the research into the many health benefits of Montmorency cherries.
'We have been working flat out to replenish the supplies in supermarkets as they have been selling out fast.'
How well do you know your cherries? As if improved quality and quantity of sleep weren't enough to get us reaching for a glass of juice, we've also learned some fascinating new facts:
A glass of tart cherry juice contains more antioxidants than five portions of banana, tomatoes, watermelon, peas and carrots. Antioxidants are vital to helping the body to fight free radicals.
Cherries contain 19 times more beta-carotene than blueberries or strawberries, along with Vitamin C, potassium, magnesium, iron and folate.
Cherries help to maintain antioxidant levels, boosting the cardiovascular system and the immune system as well as helping to slow the ageing process.
Tart cherries have been shown to significantly reduce muscle pain following rigorous exercise
Tart cherries are one of the very few known food sources of melatonin, crucial to the maintenance of regular sleep patterns
Cherry juice is rich in vitamin A, which has antibacterial properties, helping to remove toxins from the blood and fight bacteria trapped under the skin
Cherry juice is well known for its ability to help lower blood uric-acid levels and reduce gout pain
Emerging studies suggest tart Montmorency cherries may also offer protection against heart disease
Need any more reasons to start showing this fabulous fruit a little love? No, we didn't think so. To try Cherrygood juice out for yourself, head to your nearest major supermarket. For more advice on following a healthy diet, why not visit a nutritionist – they'll help you to find the plan that suits you best.