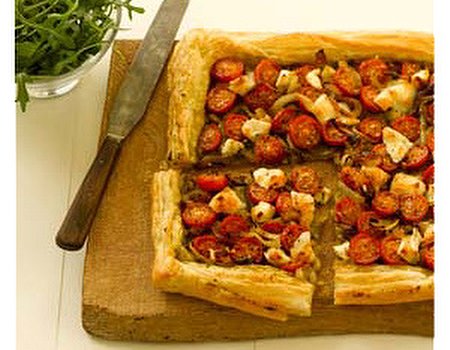 Continuing our series of winter dishes from British Onions, we've got a great recipe for a mouthwatering goat's cheese tart. We can't wait to plate this up with a fresh green salad, but if goat's cheese isn't your thing there's no need to despair – why not check out these tasty recipes for onion gravy and dahl with spiced onions instead.
Like your dinner to be healthy as well as delicious? So do we. This tempting tart contains antioxidant tomatoes, anti-inflammatory onions and calcium-rich goat's cheese. Aprons at the ready....
Caramelised onion, cherry tomato and goat's cheese tart
Serves: 4
You will need:
1 Packet of puff pastry
1 large British Onion, sliced
1 tbsp olive oil
1 dsp sugar
2 tbsp green pesto
250g/10oz cherry tomatoes, halved
100g/4oz soft goat's cheese
Black pepper
Method:
1. Preheat the oven to 190C, 375F, Gas 5
2. Roll the pastry out so you can cut out a 24cm x 32cm/ 9 ½"x 12 ½", put the pastry sheet onto a baking tray, brush some water around the edge of the pastry & turn in 1cm/1/2" on all four sides, press down to seal.
3. Fry the onion slowly in the oil until translucent, add the sugar & turn up the heat to caramelise. Keep to one side.
4. Spread the pesto over the inside of the folded edges. Spread the onions over the pesto and place the cherry tomatoes on top, before crumbling the goat's cheese over the tomatoes. Grind some black pepper over the tart.
5. Cook for 20-25 minutes until the tart is golden brown.
6. Serve hot with a green salad.
Dribbling over your keyboard just thinking about it? If you're a fanatical foodie, head on over to our food blog for the latest recipes and food-related news – who knows, you might just find something new to try out.