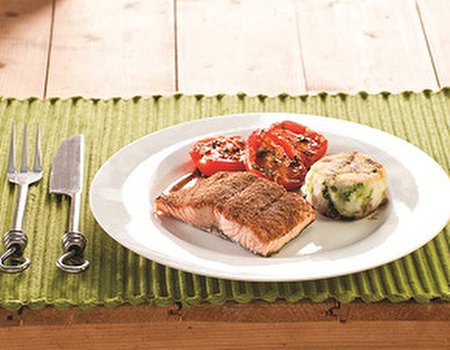 If 'you are what you eat' then eating well can leave your skin sparkling from top to toe. A good balanced diet packed with fruits, veggies and minimal processed foods can have a large effect on the way your skin looks, so whether you're prone to acne or have stubborn dry patches - adapting your diet may become your number one skin saviour.
Boosting the elasticity and the appearance of fine lines and wrinkles, eating a diet full of omega 3 fats can help encourage the body to produce anti-inflammatory compounds which help to slow and even reverse signs of ageing in the skin, and a dish containing salmon is perfect for helping you look your best. This delicious salmon recipe is part of the SkinTrition range of recipes from the experts at Simple skincare and is both quick and easy enough to whip up in a hurry and wow guests with - see you at the fish counter...
Cajun salmon with bubble and squeak and roasted tomatoes
Per serving: 600 kcals/ 40g protein / 27g fat/ 6.5g saturated fat / 47g carbs/ 12g sugar/ 9.5g fibre/ 0.6g salt
Preparation time: 15 minutes
Cooking time: 35-40 minutes
Serves:4
You'll need:
4 salmon fillets
1tsp Cajun seasoning
900g floury potatoes such as King Edwards, Maris Piper or Estima, peeled and cut into large even sized chunks
250g shredded savoy cabbage, washed
1 bunch spring onions, finely chopped
6 plum tomatoes, sliced in half lengthways
1 clove of garlic, peeled and crushed or finely chopped
2 tbsp of olive oil
Fresh thyme
100ml hot skimmed milk
15g butter
50g grated parmesan cheese
1 tbsp balsamic vinegar
Salt and freshly ground black pepper
What to do:
1. Preheat the oven to 230°C, gas mark 8. Place the potatoes in a large pan of lightly salted boiling water and cook for 20-25 minutes or until tender
2. Place the cabbage in a large pan with 100ml of water and cook over a high heat for 2-3 minutes, then drain thoroughly
3. Place the salmon skin side down on a baking tray. Mix the Cajun seasoning with 1 tbsp of oil then rub over the flesh of the salmon. Mix the garlic and thyme with 1tbsp of oil then brush over the tomatoes. Season the tomatoes with a little black pepper and salt and place them alongside the salmon. Cook for 15-20mins or until the salmon is cooked through.
4. Drain the potatoes and then mash, adding the hot milk and butter. Mix in the cabbage and spring onions.
5. Heat the remaining oil in a large non stick frying pan (if you don't have a frying pan that is large enough you may need to do this in two batches). When the pan is hot, add the potato mixture and shape into 4 rounds. Press down flat and cook over a low for heat for 10 minutes or until a crust forms on the underside. Turn and brown the other side.
6. Carefully transfer the potato mixture (bubble & squeak) on to plates. Add salmon and tomatoes, drizzle the balsamic vinegar over the tomatoes and serve.