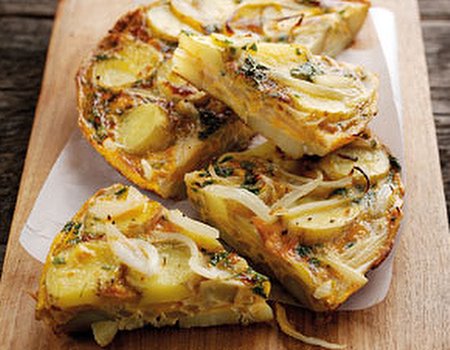 Treat someone you love to a quick and tasty meal that uses the best of British food - our onions. Often overlooked, onions make up the base of most meals and they even provide health benefits. Onions contain quercetin which has anti-inflammatory properties - perfect for hay fever sufferers, as well as hormone balancing chromium and heart helping flavonoids. What better way to eat these little wonders than pairing them with potatoes and eggs...
This is an ideal mid-week dish that's great to add all those unused leftovers you might have in the fridge too. You could add bacon, peas, chicken or cheese, to whip up a delicious and filling meal. Quick, easy and cheap too, this dish from British Onions is a sure-fire winner at Wahanda HQ.
British Onion and Potato Tortillas
Serves 2
Preparation Time: 15 minutes
Cooking Time: 25 minutes
You will need:
2 British brown onions cut onto 12 wedges
3tbsp olive oil
300g new potatoes, cooked and sliced
5 eggs
2 tbsp parsley
Sea salt and ground black pepper
Method
1. Heat the oil in a 20cm frying pan and add the onions. Cook the onions for 6-7 minutes or until the onions are soft and lightly brown.
2. Add the potatoes and toss with the onions. Cook for a further 5-7 minutes, shaking the pan occasionally to make sure nothing sticks to the bottom.
3. Break the eggs into a small bowl and beat lightly with a fork. Add the parsley and season. Gently pour the eggs over the onion and potato mixture, shaking the pan so the egg mixture runs into all the gaps.
4. Return to a low heat and cook gently for about 20 minutes or until the eggs are jut set.
5. Place the tortilla under a preheated grill and cook for a few minutes further or until the eggs are completely set and the top is lightly brown.
6. Serve with a salad or as part of a packed lunch or picnic.
For more advice on healthy eating, why not find a nutritionist in your local area – they'll be able to put you on the right path.