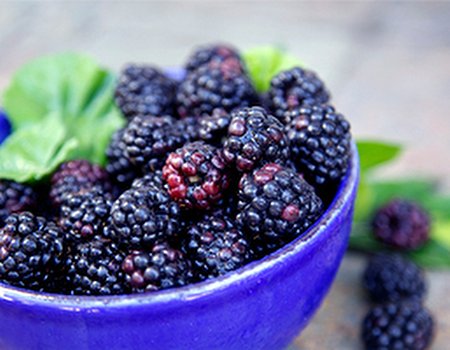 Remember when your parents used to take you out blackberry picking? These days we're all much more likely to purchase our blackberries from the supermarket than risk a forest of thorns, but luckily the health benefits are the same. Just don't be tempted to make the berries into jam...
Move over, blueberries - according to recent research, blackberries may be one of the UK's ultimate home-grown superfoods. These hedgerow heroes contain a variety of nutrients that can help to keep you nice and healthy, as well as improving your appearance. Did you know that:
Blackberries contain more vitamin C than blueberries
These fantastic fruits are a good source of lutein, a vital contributor to good eye health
A handful of blackberries contains nearly half your daily intake of manganese, an important mineral for ensuring strong and healthy bones
Blackberries are a source of folic acid, which aids cell division and growth
Looks like it could be time to head to your local park and see if you can find some brambles...
Birds beaten you to it? If there's not a berry to be found, why not try Blue Lightning from Nature's Plus. These ready to mix sachets contain blackberry concentrate and can be purchased from www.nutricentre.com. Alternatively, if blueberries and blackcurrants are more your thing, have a read about these great berry bags from What On Earth.