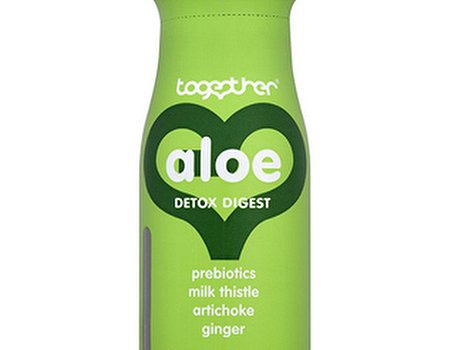 We all want to eat and drink healthily, but it can be easier said than done when you lead a busy life. Hectic schedules and a lack of time mean that lots of us end up missing out on certain vitamins and nutrients that are vital to our wellbeing. Luckily, Holland & Barrett now stock a new range of health drinks called 'together' which aim to help us stay healthy without any hassle – and the good news is that they're tasty, too.
Kate Butler, Nutritionist for Holland & Barrett, says of the together drinks "products like these make maintaining health whilst you're 'on-the-go' that little bit simpler". Each drink comes in a handy travel-sized bottle so that you can tuck it in your bag – and their compact size means that they won't take up much space in the fridge, either.
The together range is comprised of four different super juices, each designed to help your body in a different way. Here's a brief guide to what's in those potent little pots and what they can do for your health:
Goji – This mango and passion fruit drink is packed full with goji berries, carnitine, coenzyme Q10 ginseng and liquorice to help give you an energy boost without reaching for the coffee pot. Familiar with that mid-afternoon slump? Yes, so are we. The Goji super juice will help you power on through until the end of the day – and it won't give you coffee breath either.
Aloe – Containing milk thistle to protect your liver and artichoke and ginger to calm your stomach, the soothing Aloe drink is perfect for your detox needs. Suffering a little from last night's work drinks? Grab one of these for a much needed health fix. Wahanda loves the blueberry and apple flavour of this super juice – definitely not one that will need forcing down.
Acai – The cherry and grape flavoured Acai drink is together's very own elixir of youth. Containing antioxidants to defeat free-radicals, omega oils to nourish your brain and skin and lutein for healthy eyes, this juice is great for those looking to fight the signs of ageing. It also contains gingko biloba which can help prevent stress – so you can stay nice and serene and avoid those pesky frown lines.
Pome – No, that's not some unusual ingredient you've never heard of – Pome is a combination of pomegranate and apple. This juice contains antioxidant pomegranates in addition to your recommended daily allowance of seven different vitamins and four important minerals – that's a pretty powerful combination. Pome will help you to rebalance your body and prevent you from feeling sluggish and lethargic – sounds pretty good to us.
The together natural super juices are available from Holland and Barrett stores and online at www.hollandandbarrett.co.uk. For more inspiration on how to eat your way healthy, check out our nutritional advice and treatments page – and don't forget to keep an eye out for more fun foodie posts from the Wahanda Tasters.