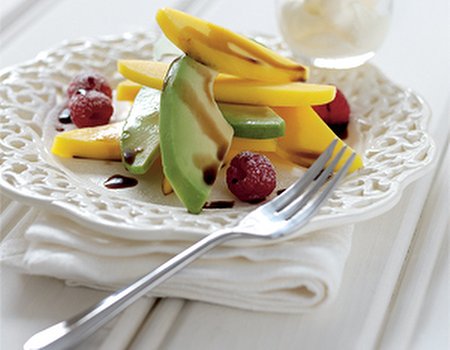 Looking for an innovative dessert that fits in with your healthy eating plan? Look no further. Our second recipe courtesy of Summer Avocados is for an unusual fruit salad that is sure to get your dinner guests talking. Move over, cheesecake – not only is this dessert tasty, it's full of nutrients too!
Balsamic avocado and mango salad
Balsamic brings the sweetness out of the fruit to create a delicious simple summer dessert.
Preparation Time: 5 minutes
Serves: 4
You will need:
2 Summer Avocados, halved, stoned and peeled
2 tsp lemon juice
2 mangoes, peeled and sliced
12 raspberries
1 tbsp icing sugar
1 tbsp balsamic vinegar
Crème fraîche, to serve
Method:
1. Slice the avocados and toss in the lemon juice. Layer the avocados and mangoes on a plate and sprinkle with a few raspberries.
2. Sieve over the icing sugar and leave for 5 minutes. Just before serving drizzle with the balsamic vinegar. Serve with crème fraîche.
Free booklet for all
Sound good? If you want some more tasty treats to inspire your culinary skills, request your free 24 page Summer Avocado recipe booklet by either emailing summeravocados@rt-com.com, or you can send a postcard to: Summer Avocado Recipe Booklet, 26 Fitzroy Square, London, W1T 6BT.