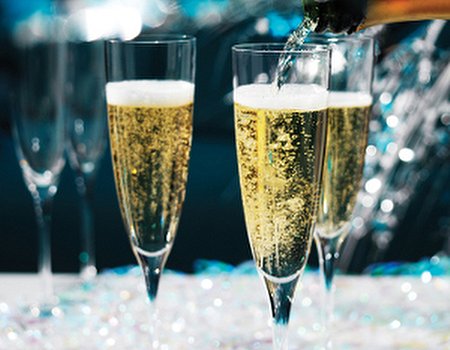 Hang on in there folks, the weekend's nearly here. To celebrate, we've got some great recipes for tasty tipples with a festive flair. The best part? None of them contain any added sugar. Might as well help yourself to a few, then...
We all know the saying 'A moment on the lips, a lifetime on the hips'. Sadly, most of our favourite treats aren't figure-friendly – meaning that indulgent times of the year such as Christmas can be a bit of a minefield.
Luckily, the smart people over at Simply Nectar have solved our cocktail quandary by coming up with a range of suggestions that contain no refined sugar or chemical nasties. They've teamed up with organic wine specialist Vintage Roots and organic food company What On Earth to make sure our festive cup runneth over. Now all we have to do is dust off those champagne flutes...
Winter Sunrise
100 ml Cava Petit Albet
30 ml Orange Simply Nectar
either A handful of What On Earth Organic Raspberries, blended
or 20 ml Raspberry Simply Nectar
Fill chilled flute with blended raspberries or Raspberry Simply Nectar and add Orange Simply Nectar. Stir gently and top with Cava.
Raspberry Bubbles
50 ml Raspberry Simply Nectar
100 ml Serge Faust Champagne
2-4 raspberries from a What On Earth Organic Frozen Raspberry Pouch
Place frozen raspberries at the bottom of a chilled flute. Add the Raspberry Simply Nectar and fill with Champagne.
Icy Delight
40ml Peach Simply Nectar
10ml Citron Presse Simply Nectar
100ml Prosecco Giol
Crushed ice
Fill a chilled flute with Citron Presse Simply Nectar followed by the Peach Simply Nectar. Add Prosecco and top with crushed ice
What a Lovely Pear
100 ml Cava Petit Albet
50 ml Pear Simply Nectar
1 lime cut into wedges
Fill a chilled flute with Pear Simply Nectar and top with Champagne. Squeeze and drop in one wedge of lime.
Festive Flirt
100 ml Serge Faust Champagne
25 ml Organic Vodka (various types available through www.vintageroots.co.uk)
25 ml What On Earth Organic Pineapple Chunks, blended
Fill flute with blended organic pineapple followed by the organic vodka and stir gently. Top with Champagne.
Bellini? Just Peachy!
50 ml Peach Simply Nectar
100 ml Prosecco Bosco del Merlo
Fill a chilled flute with Peach Simply Nectar and gently add the Prosecco. Stir gently. Cheers!
To find out more about the ingredients used in these blissful beverages, visit www.simplenectar.com, www.vintageroots.co.uk and www.whatonearth.co.uk.
Know that you're going to overindulge this season? It's ok - mince pies and mulled wine were made to be scoffed. Just make sure you've got some Zumba or aerobics classes lined up to help get rid of any January guilt...