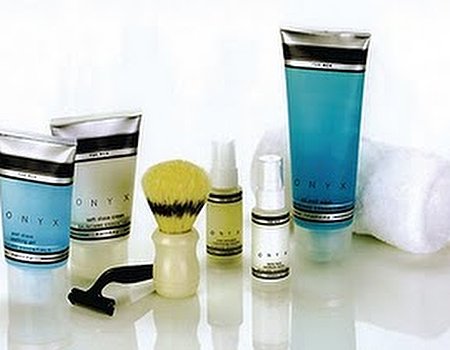 Whilst at lunch with friends today, I noticed B had a blemish or skin-tag on his face. Even though my inherent urge to help people with their skin arose, I drew a line at consultations over wine in Japanese lounge restobars, and made a mental note to bring his attention to skincare at a more opportune juncture.
B is among the most vain of my male friends, and a blemish on his face is an assault on his entire world. Being male, he first tried convincing me the blemish was a figment of my imagination.
However, in just a few short moments he agreed to meet with a Derm, and also, to renew his skincare routine.
He had previously been using my products, but had not restocked his bathroom shelf. Needless to say the facewash, scrub and eye gel are on their way to his cabinet as I type.
Well guys, guess what... whilst you were busy being macho, (wheels, women and work ….although perhaps not in that order) skincare has evolved, your skin has changed, and the way you perceive it should change.
Gone are the days when a hot shave and spritz of deodorant would suffice. Of course, magazines like Men's Health, GQ, and Man's World altered male grooming standards, but a lot of men would take health, style and exercise tips from these, whilst grooming features wouldn't warrant a glance. Grooming was associated with beauty. And beauty is for women, not for alpha males.
Even whilst I was Fashion Editor at Man's World, my editor, the very handsome R, urged me to write on men's skincare and grooming in a humorous tone (lest the men thought we were serious about them washing their faces!).
Surveys show that men now spend more time in the shower and in front of the mirror than women. Most men use a moisturiser and sometimes also a sunscreen. Many cosmetics companies (including Flawless You Forever) have a separate men's range, made specifically to combat the challenges faced by male skin.
The basics are very easy to follow. Here are my 'must dos' for all male skin, simplified into 3 steps:
1) Wash: Facewash and Scrub 2) Wear : Moisturiser and sunscreen 3) Work : Eye Cream and Mask
Wash twice daily with a face-wash suited to your skin type. Use an exfoliating scrub twice weekly. Wear moisturiser after every wash, depending on the time of day, and sunscreen whenever exposed to sunlight. Work an eye-gel, serum or cream into the delicate eye area daily, and use a mask twice a month.
Trust me, the benefits will be miraculous. Your skin will appear fresh, supple and young, and age much slower. After all, just how 'alpha' are sunken eyes, crow's feet and a creviced forehead? Skincare won't make you less masculine, just more debonair.
For details on the benefits of each product, the most appropriate products for you, and any other questions and queries that you may have, please feel free to write to me.