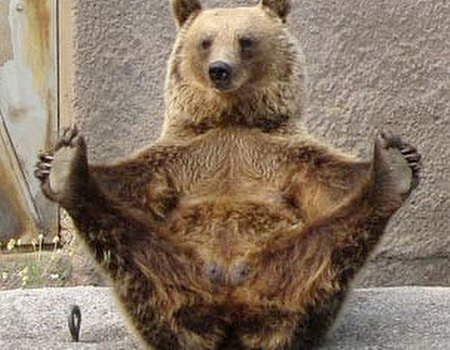 Usually you are more likely to find bears crashing out, gorging on any food they can find. Associated with inactivity, they are perhaps a tad on the slovenly side.
Well, not this bear - the so-called "Yoga bear" at Aharti Zoo in Finland was found by a tourist amusingly practising a 15 minute stretching routine, for all to see.
Apparently her postures resembled those used in yoga - web programmer Meta Penca told the Guardian that she looked "exactly the same as when people do yoga; easy, slow, focused and calm".
Paul Harvey, a yoga trainer and teacher for 15 years agrees she was practising the ancient Indian discipline. "The first is spread legs, holding big toes or feet - and she's doing pretty good with claws," he told the paper ironically.
Not only did she look like she was doing yoga, but she also seems to be a bit of an expert too. As yoga expert Paul adds, the bear's flexibility and balance marked the bear out as something of a pro: "These are not beginner's postures. Yogi bear is definitely an advanced practitioner".
If you want to find your zen away from the zoo, why not check out one of our many yoga retreats and studios across the country – you'll be as flexible as a bear in no time. Now there's a sentence we never thought we'd say…