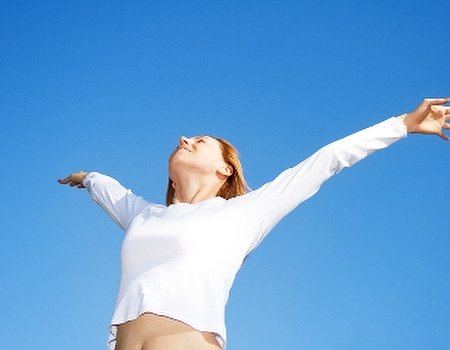 Researchers have found that yoga may be helpful for childhood cancer patients and their parents to cope with the impending stress of a cancer diagnosis and treatment.
According to a study conducted by researchers at the Children's Hospitals and Clinics of Minnesota, yoga helps both parents and adolescents relieve stress and increase their sense of wellbeing
It is most beneficial for older children with the disease, from the ages of 13- 18 rather than the younger ones ages, 7 – 12.
Teens claim that they find the exercise "fun" and "relaxing", while the parents said the yoga sessions allowed them to stretch their muscles and strengthen their bodies, as well as relieve stress.
The study focused on teen cancer patients and their parents and how the practice of yoga influences how they feel. The findings reveal that yoga is emerging as an effective complementary therapy in adult oncology - not just an exercise made popular by Jennifer Aniston and co.
Not only does yoga make the patients feel better about themselves, it is also good for their health. Yoga lowers the heart rate and blood pressure, and improves circulation and oxygenation.
Previous research has also suggested that the breathing exercises during yoga turn down the body's "fight or flight" response, therefore reducing stress.
Yoga may even help ease the patient's symptoms of fatigue, sleep disturbance, nausea and pain, but more studies are needed to confirm its effectiveness.
Yoga is simply the latest in a long line of alternative treatments that parents are using for their children's health.
Natural, effective and with minimal side effects, you can see why the alternative therapies are popular. Here is a list of other effective therapies that help deal with the effects of illness:
These are both parts of Chinese medicine; whilst acupressure is about an amount of applied pressure, acupuncture uses tiny needles that stimulate parts of the body. The treatment can aid fatigue, insomnia, pain and nausea, as well as many other cancer treatment side effects.
Research supports the use of chiropractic care for cancer patients, as musculoskeletal complaints and side effects from radiation and chemotherapy is related to connective tissue and joints. The treatment also improves the physical and emotional well being of the patient, overall improving the quality of life.
A simple massage helps to provide relief of muscle tension and stress. Research has shown it can relieve pain in cancer patients, reducing fatigue and anxiety.
• Tai Chi
Involves gentle movements and deep breathing. Weaker cancer patients need not worry as hardly any physical strength is needed for this exercise.
Fragrant oils are especially good for relieving stress, nausea and pain. Aromatherapy massages are also good for a calming effect.
Check out our wellness and fitness centres around the country for these stress busting treatments – ill or healthy, they're sure to give you the rest you need.