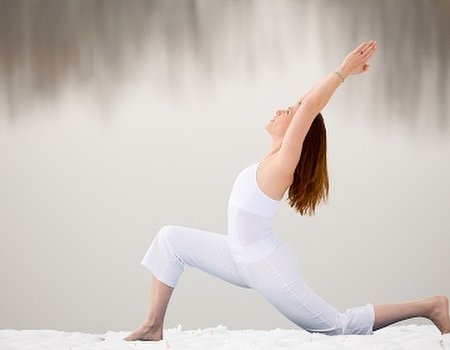 Everyone seems to be going yoga crazy. With evidence that yoga releases stress, high powered business men and women alike are whipping out their yoga mats for a little piece of relaxation in their hectic schedules. I even found out that it reduces snoring so I decided to see what the fuss is all about, and jump on the yoga bandwagon to discover if it really is all it's cracked up to be...
The Venue
Set close to the town centre of Woking, the fitness expert's David Lloyd's boasts various facilities, from a 20m swimming pool, eight tennis courts and an open plan gym - the place is pretty vast. However, we weren't there for the gym. It was the yoga studio we were after; a spacious, relaxing room with dimmed lights spotted around the edge of the wall...ahh, bliss.
The Class
As a yoga newbie I was a little scared that we would be out of our depth with difficult moves to learn, but the instructor made sure we felt at home, and offered help if we needed it. She reassured us that yoga is not a competition, but that you must go at your own pace, and not do anything that does not feel right. And so with this in mind, we began.
Turns out there was nothing to fear, as hatha yoga is full of gentle movements, which are not hard to do - but the emphasis instead is on how long you can hold the pose for.
We started on our back, practicing stretching our arms upwards then pulling in our knees, all the while focusing on taking deep slow breaths - holding the breath in while stretching, and exhaling when we relaxed the pose. After we had practiced various postures on our backs, we started to begin some more active movements, like the classic downward dog, lifting the foot if we could at the same time.
After practicing poses on the mat, we started to do stretching movements standing up. Classic physical exercises such as touching our toes and stretching upwards were key, and while standing we were told to stand up straight with our feet slightly apart. The tutor told us to imagine that our body had a fine line going through it, to keep the body in symmetry.
Stretching isn't the only focus in hatha yoga – you learn to balance too. While balancing on one leg, the tutor told us it's something we find hard as we get older, but luckily I managed not to topple over.
No part of the studio was unused, as we used the mirrored studio walls to balance against whilst we practised stretching into a triangle pose. Surprisingly though the movement was simple, holding and keeping the pose was not, as this is where you can feel your muscles pulling.
At one part we were told we could now do our own stretching poses – in other words, the part where you can show off, as some ladies did head stands, shoulder stands... you name it, they did it! To relax after the vigorous head stands, shoulder stands or my go at holding my legs into the air, the instructor advised us to get into the child pose, to relax and regain the blood back into our heads, as you can get a little light- headed after all that stretching.
We finished off the session with a little meditation This was my favourite part, where we simply lay on our mats with the lights dimmed down. It proved to be very relaxing - I nearly nodded off! The instructor read us a short poem (Dance Like Nobody's Watching) and we were told to imagine a white light coming from our navel, touching others around us, and then going back into ourselves - pretty deep stuff…
The Result
Afterwards, we were left feeling relaxed and renewed. After a quick nip in the pool, I was quite pleased I did not feel any aches or pains but felt more stretched out, so to speak - handy if you spend most of your time sat down in an office. The movements were all relatively easy, but next time I may try out a class that has a faster pace, such as dance or aerobics
However I may consider giving yoga another go, as it was relaxing and good exercise... so who knows, it could be me standing on my head soon - like a yoga pro!